Bullish breakout:
Yesterday, I noted that USD/CAD was awaiting breakout from consolidation range, but had some bullish bias. 
As we get into the 8/5 Friday US session, USD/CAD is in a bullish breakout. 
But to be honest, throughout the 8/4 session, the pair lost some of that bullish bias as price dug back into the consolidation support and even cracked it.
The only bullish bias left to me was the prevailing choppy bullish "trend", which was intact as long as price was above 1.30. 
USD/CAD 4H Chart 8/5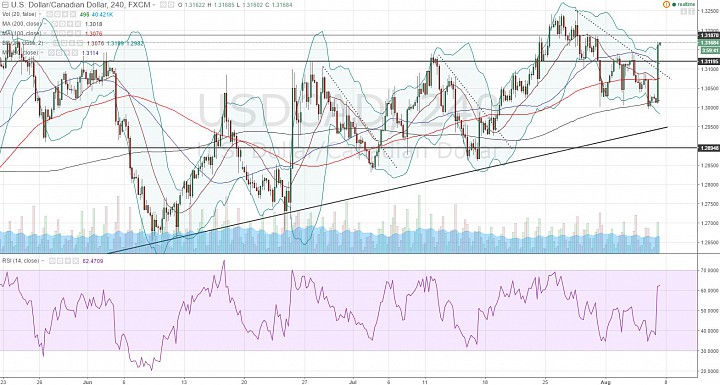 (click to enlarge)
Bullish reaction:
- As I noted before, price action at the end of the 8/4 session was bearish, but the 1.30 handle still held. 
- Then, after the jobs reports from the US and Canada, which I will discuss below, USD/CAD surged, breaking above the consolidation range we saw in the past week. 
- Now, USD/CAD has the 1.3250 high in sight. 
- This bullish outlook would essentially confirm a bullish breakout from an ascending triangle seen more clearly in the daily chart. 
- The breakout thus opens up the bullish outlook even above the 1.3250 high. 
My trades: moving target higher:
- I had 2 positions opened with average entry of 1.3015 and stops at 1.2980. 
- One of my target was the resistance area of the consolidation - 1.3130. 
- The second target is 1.3225 in case price fails to make it to 1.3250. 
- With the current boost from the jobs reports, I think the anticipation should shift from below 1.3250 to above 1.3250. I am considering moving the target to 1.33. 
- I actually think its viable to target the 1.34 level, but there will be the 200-day simple moving average in that 1.3290-1.33 area, so I will cap it there.

Jobs Reports:
The obvious reason for USD/CAD's strong rally today is the contrasting jobs reports from the US versus Canada. As you can expect, we saw a decent US Non-farm payroll report but a weak Canadian jobs report. 
The US non-farm payroll (NFP) essentially reports on the number of jobs created in the previous month. The market is generally happy when its above 250K, and disappointed below 200K. Average hourly earnings is also important as an indicator of inflation. Strong wage growth can lead to inflation, which would push the FOMC towards raising rates - bullish for USD.

Here is the official report with links to more component data: The Employment Situation -- July 2016 (From the Bureau of Labor Statistics)

USD NFP:
for July: 255K
Forecast: 180K
Previous: 292K (revised up from 287K)
Average Hourly Earnings m/m:
For July: 0.3%
Forecast: 0.2%
Previous: 0.1%
Unemployment: 4.9%
Forecast: 4.8%
Previous: 4.9%
The main take-away is that payroll data surprised significantly, and was accompanied with decent sign of wage growth. Canada on the other hand is showing worsening condition. 
Canada's employment change data was weak in June, and is even weaker today. The employment rate also increased as expected.

Here is the official jobs report from Statistics Canada: Labour Force Survey, July 2016

Employment Change
for July: -31.2K
Forecast: 10.2K
Previous: -0.7K
Unemployment rate
Current: 6.9%
Forecast: 6.9%
Previous: 6.8%