Submitted by Lance Roberts of STA Wealth Management,
Well the day has finally arrived that after two years of promises, jawboning and hope - the European Central Bank finally announced they will take the plunge into the Quantitative Easing (QE) pool.
"Today, the ECB announced that they will engage in a "QE" type program buying €60 Billion (Euros, not Dollars) a month of investment grade sovereign bonds.

 

While the markets may welcome another source of liquidity to replace the vacancy left by the Federal Reserve, the are several problems that the ECB will still have to hurdle. The first, and arguably the most important, was identified by Axel Merk in his recent newsletter:

 

"It should be clear, though, that the negative deposit rate at the ECB makes comparing today's balance sheet to that of 2012 akin to comparing apples to oranges.

 

Let's keep in mind that anyone selling bonds to the ECB must do something with the cash. QE programs in other countries allowed banks to earn some interest on their excess cash. At the ECB, sellers will have to pay the ECB to in order to hold excess cash. As a result, sellers will think twice before selling. Having said that, at the right price, there will be sellers. However, we are now moving from apples and oranges to bananas – pardon the pun: any amount of buying by the ECB will be more potent with negative interest rates on cash deposits at the ECB, casting serious doubts over whether it is appropriate to state that the 2012 size of the balance sheet is the appropriate size."

 

This is crucially important. With the ECB leaving interest rates unchanged, the negative interest rate carry makes this QE program much less attractive to sellers.

 

Secondly, given the fact that "QE" programs have failed to spark "inflation" anywhere else on the planet, the question really becomes "what is the point?" The deflationary pressures in Europe are Draghi's real concern, and since QE suppresses interest rates and inflation, the whole process seems to contradict the stated goals."
Whether or not the ECB's QE program has the desired effect or not will not be realized for a while. However, this week's reading list is a variety of opinions and initial takes on the "ABC's of the ECB's QE."
---
1) Finally The Details by Peter Boockvar via The Big Picture
"The ECB said the combined monthly purchases which includes ABS and covered bonds and now include sovereign and agency bonds will total 60b euros per month and will continue to do so "until we see sustained inflation improvement." The ratio will be based on the capital key where about half is made up of Germany, France, Italy and Spain. The ECB will coordinate the purchases but will be implemented decentrally which means at the national level. European institution paper (such as EFSF paper will be subject to loss sharing but national central bank purchases of other sovereign debt will not be subject to loss sharing which appeases the Germans).

 

They also lowered the rate at which the TLTRO will be lent at to .05% from .15%.Bottom line, as I doubt even the ECB believes that this news will directly increase bank lending, it is likely all about further weakening the euro."
Read Also:  Investor Implications Of ECB QE by Axel Merk via Merk Investments
2) Draghi's Going To Have A Bad Day At The Office by Mark Gilbert via Bloomberg
"A better solution might have been to leave the program open-ended, with Draghi repeating his "whatever it takes" mantra. That would count as the kind of shock-and-awe that would win plaudits from the QE crowd. Talking Germany into an infinite commitment, however, was always going to be an impossible task.

 

Draghi still has to negotiate the tricky issue of buying government bonds at the negative yields currently prevailing across much of the euro zone. Paying for the privilege of storing money in, say, a three-year French bond effectively locks in a capital loss if you get back less than you paid. A lawyer could argue that that constitutes "monetary financing" of governments, which is forbidden by the monetary union treaty. Draghi has already seen off one legal challenge to his power to buy bonds; that fight may be rekindled in the near future."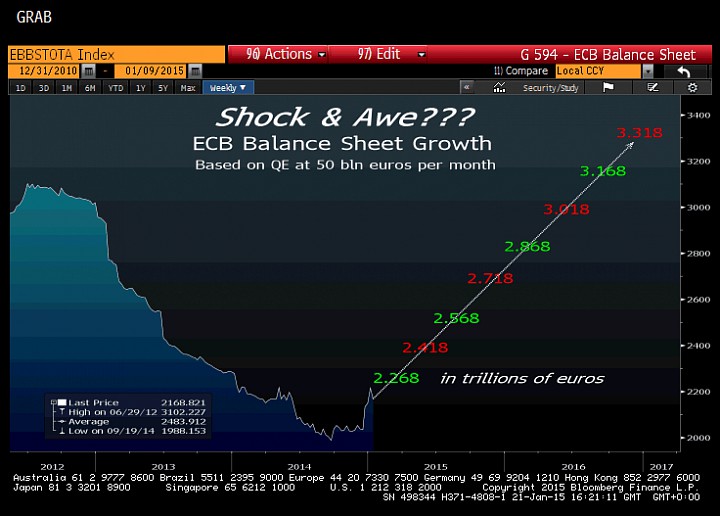 3) Mario Draghi May Need A Bigger Boat by Jeff Cox via CNBC
"That's precisely why Thursday's announcement could just be the first leg of ECB QE, just as the Fed launched two of its own initiatives before finally settling, in the third round, on simply telling the market the asset purchases were "open-ended" and could continue indefinitely. (As it happened, the Fed ended QE3 in October.)

 

Citigroup economist Willem Buiter thus expects an opening salvo of 600 billion euros over two years, which likely won't sate the appetite of investors wanting a full frontal attack on deflation.

 

'We regard such a program as far from optimal: our preference would be for a bigger program, over a shorter period, with full mutualization of any losses agreed at the outset. But a limited program may well be needed to get wide support.'"
Read Also: ECB Move Lacks Shock And Awe by John Authers via Financial Times
4)  Stock Investors Should Leave For Europe by Michael Kahn via Barrons
"Thursday's plan by the European Central Bank (ECB) to start a new monthly bond buying program cheered investors as stocks around the globe rallied and the euro fell as expected.

 

The rising equities tide in Europe lifted U.S. stocks with it as key indexes in Europe and the U.S. were roughly 1.5% higher in recent trading. But the falling euro, and commensurate soaring U.S. dollar, will be a problem for American exporters. By extension that suggests large-capitalization stocks, which do a large percentage of their business overseas, are facing some troubles.

 

The attractiveness of U.S. stocks, which were by far the best place in the world to put money to work this decade, has waned, at least in the near term. One look at a chart of the Stoxx 50, which is a pan-European blue-chip index, drives that point home"
Read Also: Why Central Bankers Are Terrified Of Falling Prices by Shobhana Chandra via Bloomberg
5) Societe Generale Explains Why ECB's QE Will Fail by Societe Generale via ZeroHedge
Note: This article has a good summary of the entire program as announced. While I encourage you reading the entire piece from SocGen, here is the punchline:
"The potential amount of QE needed is €2-3 trillion! Hence for inflation to reach close to a 2.0% threshold medium term, the potential amount of asset purchases needed is €2-3tn, not a mere €1tn. Should the ECB target such an expansion of its balance sheet, it would have to ease some conditions on its bond purchases (liquidity rule, quality...) or contemplate other asset classes- equity stocks, Real Estate Investment Trust-(REIT), Exchange-traded fund (ETF)...- as the BoJ, previously.

 

So the onus will remain on delivery of better-designed fiscal policy and structural reform. But it is difficult to be hopeful on these fronts."
Read Also: ECB Takes Out The Bazooka by Matt O'Brien via Washington Post
---
"Not all information is beneficial." - Ben Bernanke
Have A Great Weekend