Goldcorp acquires New Gold Inc.'s (NGD) 30% interest in the El Morro copper-gold project in Chile. For a total cash consideration of roughly $275 million to $300 million.
GG has reached an agreement with TCK to combine their respective interests in the El Morro and Relincho projects in Chile into a 50/50 JV.
Good long-term move, however, the company should keep focusing on more urgent topics in the light of this challenging market.
Goldcorp, Inc. (NYSE:GG)
This article is an update of my preceding article about Goldcorp Inc. published on August 3, 2015.
On Friday, Goldcorp announced two distinct transactions:
Goldcorp acquires New Gold Inc.'s (NYSEMKT:NGD) 30% interest in the El Morro copper-gold project in Chile. For a total consideration of roughly $275 million to $300 million, including $90 million in cash and 4% streaming deal on El Morro future production.
Goldcorp announced that it has reached an agreement with Teck Resources Ltd (NYSE:TCK) to combine their respective interests in the El Morro (including the 30% interest to be acquired from New Gold as described above) and Relincho projects in Chile into a 50/50 joint venture.
These two projects are located in the same area (40kms apart), and will evidently create a strong synergy that will reduce CapEx to a more affordable level in this challenging environment.
Combining these two neighbouring assets is a common sense approach that allows us to consolidate infrastructure to reduce costs, reduce the environmental footprint and provide greater returns over either standalone project,"
Said M. Don Lindsay , President and CEO of Teck.
Based on the Preliminary Economic Assessment ("PEA") called Project corridor, the ore from El Morro will be process at the Relincho mill. Total CapEx to bring the two projects to completion is estimated at $3.5 billion which is a fraction of the CapEx necessary for the two projects on a stand alone basis.
Thus, the definitive valuation of the deal to New Gold is rather secondary to the fact that without selling its stake (30%) to Goldcorp which resulted to the consolidation of the El Morro project together with the Relincho Project, nothing could have been done economically. This is the perfect addition of two negatives that produce a positive.
Project corridor Initial stage development contemplates a single line mill and concentrator facility with an initial capacity in the range of 90,000 - 110,000 tonnes per day to produce an average of approximately 190k T of copper and 315K Oz ounces of gold per year over the first full 10 years.
Pre-Feasibility Study is expected to commence in early 2016 and be completed in 12 - 18 months. Assuming a positive Pre-Feasibility Study, a Feasibility Study would be initiated thereafter. The projects will be completed probably during 2020.
Reserves for the two projects at 12/14:
Gold
Copper
Molybdenum
El Morro
8.9M Oz
6.5 B Lbs
-
Relincho
-
10.1 B Lbs
464 M Lbs
Total
8.9 M Oz
16.6 B Lbs
464 M Lbs
Goldcorp: Mines -- Production and Location.
Location
Mines

2014 gold production

Estimated

Troy Oz

Production

in TPD

Oz/Q2'15

Reserve P1+ P2

in Troy oz

Canada & USA
Red Lake
400k to 425k

1,675 TPD

90,800 Oz

2.55M

12 years-Life

Éléonore

290k to 330k 2015E

575k-625k by 2018

4,312 TPD

43,800 Oz

4.03M

Commercial on 4/1/15

Porcupine

(Extension) Probe mine 01/19/15

300K to 320K

11,339 TPD

72,400 Oz

3.01M

13 years-Life

Musselwhite
230k to 240k

3,375 TPD

60,900 Oz

1.85M

13 years-Life

Development Projects
Cochenour (Red Lake)
225k to 250k
1,500 TPD
-

Mexico

Peñasquitos
700k to 750k

129,630 TPD

298,000 Oz

6.9Moz (NYSE:AG)

reserve N/A

Gold/Silver

13-year Life

Los Filos
265k to 290k

44,590 TPD

67,500 Oz

7.95M gold and 54.52M Silver

14-year Life

Development Project
Cermino Rojo
Completion Q1 2016
-

1.63M gold

32.07M silver

Central & South America
Marlin
175k to 185k

3,725 TPD

40,600 Oz

1.887Moz

0.65M gold

30.09M silver

5-year Life

Alumbrera [37.5% JV with Xstrata and Yamana]
125k to 130k

42,860 TPD

15,500 Oz

8,300 copper

Gold/copper

Pueblo Viejo

[GG 40% ABX 60%]

425k to 460k

13,910 TPD

87,200 Oz

38,100 Oz silver

16.15M gold

>25-years Life

Cerro Negro

425k to 475k

2015 Est.

3,380 TPD

131,300 Oz

1.6 Moz silver

5.75M gold
Development project

El Morro/Relincho

New 50/50 JV with TCK

315K Oz or gold

190K T of copper

Over the first 10 years of the LOM

8.92M gold

16.6 B lbs copper

464 M Lbs Molybdenum
This consolidation and the following creation of the 50/50 joint venture with TKD, is an excellent example of what can be achieved by combining strategies. It is perhaps the only remaining solution left, to bring safely such a large project to completion within an acceptable projected CapEx level, in a challenging market.
I must admit that Goldcorp made a good move here, because the end result will hopefully provide a net production of 157.5K Oz of gold and almost 100K Tonnes of Copper in 2020 for the first 10 years, if the pre-feasibility and the subsequent feasibility is conclusive.
M. Chuck Jeannes, Goldcorp CEO, has been reducing expenses quite substantially and the 2Q'15 results were impressive in that regard.
It was a very strong quarter indeed, with an increase in gold production of 25.3% quarter over quarter, despite a slower ramp up at Eleonore.
Gold price have been extremely depressed in 2015 and forced many gold miners to drastic measures based on $1,000/ Oz or even $900/ Oz of gold.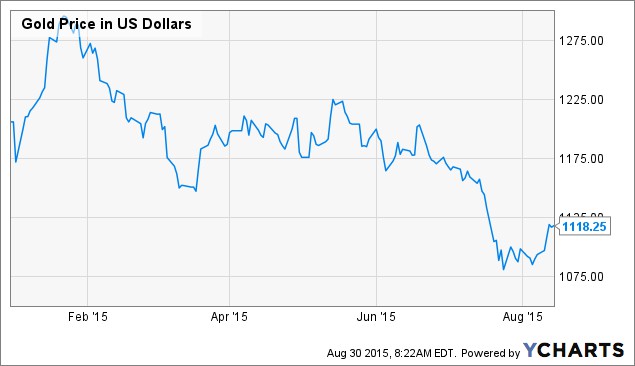 The company reduced costs (Corporate G&A etc.), sold non-core assets and raised cash (Tahoe Resources for example) or even reduced dividends to 0.06/Q (60% reduction).
GG had about $940 million in cash and increased the credit facility from $2 billion to $3 billion and extended facility for 5 years this 2Q quarter. GG has a total debt of 3.36 billion.
Unfortunately, if gold price cannot improve to a more acceptable level, M. Chuck Jeannes said that another action could be postponing CapEx for projects which should include the El Morro/Relincho projects. Time to think about Plan B:
Reconfiguring and shutting down pieces of mines or parts of operations to make sure that you're not in an ongoing net cash deficit.
Conclusion:
This new acquisition and 50/50 JV with Teck Resources, are a good long-term move with a net CapEx of $1.75 billion for GG. However, it is not an immediate concern, right now. The company must stay focus in tough times.
I would be more interested to learn about a reduction of the long-term debt or an increase production in the already producing mines such as the recent Eleonore or Cerro Negro mines.
More