Netflix is going to report its earnings on April 18. As soon as this stock has a huge popularity among people (Netflix subscriber base is huge), different bulge bracket banks started pushing their recommendations for this stock. Most of them say to buy the stock, it have a significant upside with a 10%-15%-20% growth potential. If you always use Netflix, because you get used to it, then you see the recommendation to buy the stock because JPMorgan analysts told you so, you'll most likely buy the stock. Or at least you'd be interested in the stock's performance.
I think this is the key reason why Netflix is growing (and Tesla as well). Let's just take a look at Netflix annual results and you'll see that your own due dil is needed before making the investment decision.

This is their annual P&L. Take a look at the line "Net Income" and compare 2014 and 2015. Two times less, right? This is the first question to NFLX buyers: how do you buy the stock if its net income margin is narrowing so fast? Second, the company wasn't able to double the sales since 2013 (it increased it by 50% though), but all the operating expenses more than doubled during the same period of time. One more year, and the company's operating income will be less than 0.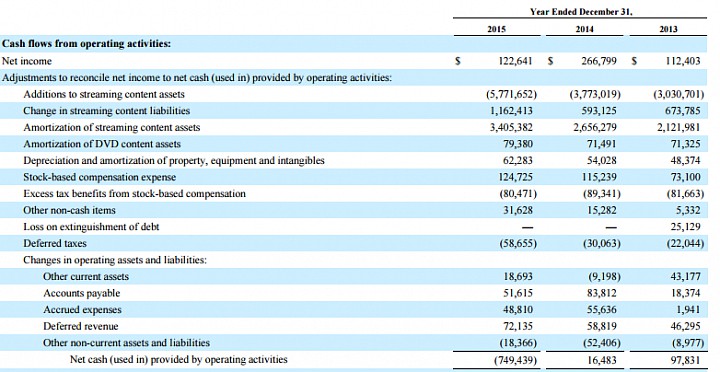 Cash flow statement is also very important for every internet business. As you can see right here: net cash provided by operating activities dropped significantly in 2015 from small but still positive $16M to huge negative outflow of $750M. Disaster is right here. This is the measure of business efficiency. Operating cash flow shows you the amount of cash generated by the company's operations. If it has a huge negative outflow, it means that the business has some issues. If it has such a significant drop in one year, the business is in troubles.
You can tell that Netflix pays a lot for the content and right now the company spends a lot to get more customers and then it can start making money and show a huge operating inflow. I can't agree with you on that at all. First, quality prevails over quantity, this is the main rule of the internet companies right now. You need to provide the quality to get a highly engaged customer. The quality of Netflix services is going down - you can see the latest Golden Globes award ceremony. Amazon Prime got almost all the awards when Netflix got nothing. Second, you should keep the balance between spendings and your sales. You can, of course, get lots subscribers and clients, but you will possibly not able to monetize it. This is a huge problem. You don't need to be great businessman to make a good projects, but you need to be a great businessman to make a real business out from a good project. Do you fill the difference.
I don't like Netflix because of its fake worldwide expansion. The company announced that it will go into a number of countries, spending some money on it as well. But what they forget to do is to analyze their new markets and their potential customers. Why do I think so? Because they entered the new markets even without translating their content. The worst thing is that they didn't even translate the system. People got used to other video-streaming providers and in order to change their habits, you need to be sure your system is way better than competitors have. Netflix isn't better, Russia has IVI.com and some others including local social networks where people consume video content, Brazil has NetMovies and so on. Netflix is in trouble with its international expansion.
JPMorgan's target price for Netflix is $139 while the current price is somewhere around $104. 30% is a huge number. The biggest problem I see here: people will follow their recommendation and I think there is nothing special if the stock reaches $139. People simply love the stock, but can you imagine how deep NFLX can dive when it keeps providing negative cash flows for a few years in a row?