Originally posted on Blogging for a Good Book: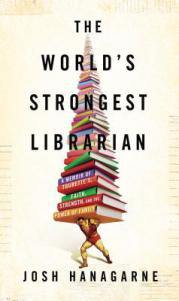 I've read several librarian memoirs. For the most part, they didn't capture my profession as I experience it.
I've read many inspirational stories of overcoming health problems, and for the most part, they seem either to be self serving, to promote some hidden agenda, to be laden with false cheeriness, or just to fail to capture the experience in terms that others would understand.
And finally, I've ready many descriptions of growing up in the Mormon faith, and they either haven't matched my experience, or again, have been tainted by  hidden agendas.
That's why I found it remarkable that Josh Hanagarne's memoir, The World's Strongest Librarian: a Memoir of Tourette's, Faith, Strength, and the Power of Family, proved successful on all three fronts. Hanagarne grew up in a somewhat unusual but loving family, but he encountered an obstacle early in life, when all of the tics associated with Tourette's…
View original 231 more words