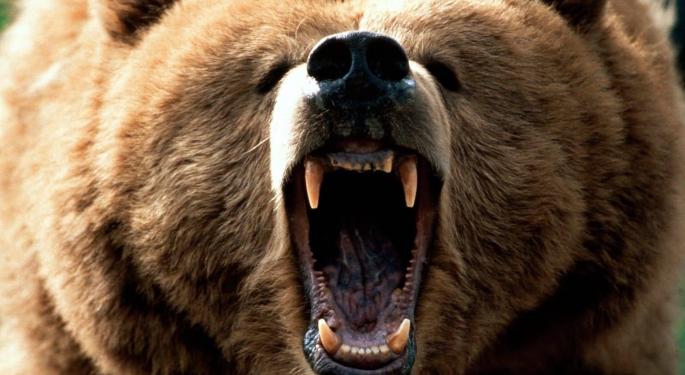 Notorious perma-bear Marc Faber, the editor of the widely read Gloom, Boom & Doom Report, appeared on CNBC Monday. The prominent prognosticator joined a host of market oracles in calling for a steep retrenchment in stock prices as the major averages continue to make new highs. Faber is predicting what basically would amount to a major market crash, as he sees 50 percent downside in the S&P 500.
"I think we can easily give back five years of capital gains, which would take the market down to around 1,100," the noted investor told CNBC.
The bearish outlook reflects that of other high profile investors who have called for a market top.
George Soros
Back in June, Bloomberg reported on George Soros' big bearish bets and said Soros had essentially "gone short the world."
In the first quarter, Soros Fund Management slashed its publicly disclosed U.S. equity holdings by 37 percent and the fund began building positions in gold and mining stocks. In outlining his bearish view, Soros expressed a myriad of macroeconomic concerns, including a sharp slowdown in China. He also has been very vocal in the past about the long-term fallout from the European debt crisis and Japan's massive debt-to-GDP levels and perpetual quantitative easing.
Goldman Sachs
At the beginning of August, Goldman Sachs downgraded the overall market and recommended that clients raise cash ahead of the Presidential election. Goldman's market strategists are predicting the S&P 500 will see a 10 percent retracement over the next three months.
Analysts wrote, "We think this reversal in positioning increases the likelihood of an equity pullback given that our fundamental view has not changed: valuations still appear high and we still expect poor earnings growth across regions."
Carl Icahn
One of the first high profile investors to share his bearish view in 2016 was Carl Icahn, who made negative comments on the broader market along with disparaging Apple Inc. AAPL 0.87% during an April CNBC appearance. A day after a poor earnings report from the tech giant, Icahn said he had completely exited the stock and expressed concerns about China.
Previously, Icahn had touted a $240 price target for Apple, but he abandoned that prediction and sold the stock somewhere in the $100 area.
Dr. Doom
In light of some of the other bears on Wall Street, Faber's ominous prediction may not seem to be totally outlandish. Investors, however, should be well aware that Faber has been a perma-bear who has repeatedly called for another market crash over the last five years as stocks have soared and the major averages have hit new all time highs. In other words, Marc Faber, aka Dr. Doom, could not have been more wrong about the trajectory of stock prices in the recent past.
Furthermore, he wasn't able to successfully articulate the reason for an impending market crash. He said, "You never know exactly why this will happen."
"The fact is, the market hasn't really been driven by genuine buying, but by stock buybacks, takeovers and acquisitions, and market leadership has been narrowing. It's not that many stocks that have been making new highs. It's quite a narrow growth of stocks that have been very strong," he said.
In the report covering his comments, CNBC noted this isn't exactly true as 48 percent of S&P 500 stocks have made 52-week highs within the past three months. So while investors should certainly take note of the bearish chorus on Wall Street, a 50 percent decline from current levels sounds like more bearish hyperbole from Dr. Doom.
© 2016 Benzinga.com. Benzinga does not provide investment advice. All rights reserved.
Source