The third-quarter earnings report season is finally wrapping up, and throughout nearly every corner of the market, investors are celebrating strong results. However, there are still a few bellwether reports on the horizon, including that of the Walt Disney Company DIS.
Once regarded as Wall Street's most reliable buy-and-hold stock, Disney has struggled recently. Shares of the media behemoth are down more than 3% on the year, and investors are starting to become impatient.
Disney is scheduled to announce its fiscal fourth-fourth quarter results after the closing bell Thursday. Based on our latest consensus estimates, we expect Disney to report earnings of $1.12 per share and revenues of $13.15 billion, which would represent year-over-year growth of 1.94% and 0.05%, respectively.
Nearly every segment of Disney's overall business has felt the pressure lately, but it's important for investors to prepare themselves for the upcoming report by taking a look at these individual operating units.
This is where we can turn to our exclusive non-financial metrics consensus estimate file. These key stock-driving estimates are updated daily and are based on the independent research of expert stock analysts. For more information on the NFM file, click here.
Based on the latest of these consensus estimates, we expect the weakness in Disney's Media Networks division to continue. Overall, Media Networks revenue is projected to come in at $5.706 billion, up just 0.85% from the $5.658 billion reported in the year-ago period. What's more, Media Networks operating income is expected to slump nearly 4.50% to hit $1.672 billion.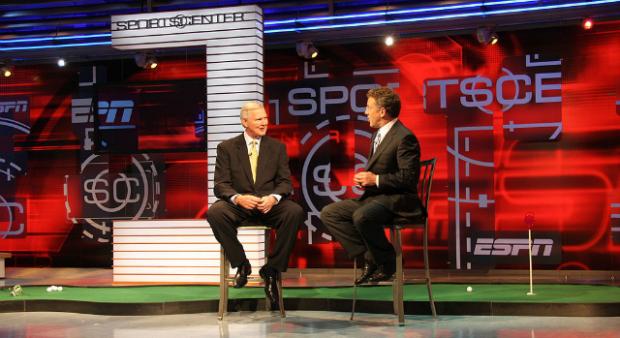 (Disney's cable entities, such as ESPN, have struggled to retain viewers)
More specifically, Disney is projected to report Cable Networks revenue of $4.009 billion and Broadcasting revenue of $1.704, which would mark year-over-year growth rates of just 1.34% and 0.12%. Operating income in these divisions is expected to slip 8.49% and 2.68%, respectively.
Similarly, the company's Studio Entertainment unit is expected to slump. Hollywood's struggle to produce box-office-friendly films has been well-documented, and Disney has not been immune. According to our latest consensus estimates, Disney is expected to post Studio Entertainment revenues of $1.811 billion, down about 9.61% from the year-ago period.
One thing that could pad Disney's report a bit is its Parks and Resorts unit. Based on our exclusive NFM estimates, we expect the Disney World owner to post revenues of $4.559 billion in this segment, which would represent a nice 3.94% gain from the prior-year quarter. Disney opened the Shanghai Disney Resort in mid-2016, and a strong global economy could be supporting tourism to its infamous parks.
Of course, investors will also be interested to see whether Disney can surpass these expectations. In an effort to predict the company's chances of posting an earnings beat, we turn to the Zacks Earnings ESP (Expected Surprise Prediction). The ESP compares the most recent analyst estimates with our overall consensus figure, which takes the average of every estimate we have seen over time.
This is done because, generally speaking, if an analyst evaluates their earnings estimate right before an earnings release, it means that they have fresh information which could potentially be more accurate than what analysts thought about a company two or three months ago.
With that said, Disney's Most Accurate Estimate—the figure representing the recent estimates—calls for earnings of $1.14 per share, giving the company a positive Earnings ESP of 1.37%. Disney is currently sporting a Zacks Rank #4 (Sell), so the predictive power of the ESP formula is limited, but this figure works to show that analyst sentiment has been warming as we approach the company's report date.
Make sure to check back here for our full analysis once Disney reports on Thursday!
Want more stock market analysis from this author? Make sure to follow @
https://twitter.com/Ryan_McQueeney
on Twitter!
Zacks' Hidden Trades
While we share many recommendations and ideas with the public, certain moves are hidden from everyone but selected members of our portfolio services. Would you like to peek behind the curtain today and view them?
Starting today, and for the next month, you can follow all Zacks' private buys and sells in real time. Our experts cover all kinds of trades: value, momentum, ETFs, stocks under $10, stocks that corporate insiders are buying up, and companies that are about to report positive earnings surprises. You can even look inside portfolios so exclusive that they are normally closed to new investors.
Click here for Zacks' secret trade>>
Want the latest recommendations from Zacks Investment Research? Today, you can download 7 Best Stocks for the Next 30 Days.
Click to get this free report
Walt Disney Company (The) (DIS): Free Stock Analysis Report
To read this article on Zacks.com click here.
Zacks Investment Research