If the commodity markets continue to undergo deflation, central banks will print even more money which will be bearish for the dollar and bullish for commodities.
Freeport's Grasberg mine has the potential to become a cash cow for the company.
Carl Icahn has invested in this company for a reason. This company is seriously undervalued when you consider the assets it has on its books.
I have been following Freeport-McMoRan (NYSE:FCX) for a while now due to the severity of its share price decline over the last 9 months, considering that this stock traded above $23 a share back in January of this year. Unfortunately, this company is fighting commodity prices on two fronts - oil and copper. Any company producing commodities that invested heavily in capex over the last few years is currently going through a lot of pain. Chevron Corporation (NYSE:CVX), for example, had its main capex projects well advanced before oil prices started to decline in June of last year. Therefore, it had to continue them and had to pay the price for this through depleted cash flows. Freeport-McMoRan, on the other hand, in 2013, decided to foray into the oil and gas business by buying McMoran Exploration and Plains Exploration in a deal totaling $20 billion. This deal skyrocketed the company's debt load (see chart), and the debt has really come into focus in the past 15 months with oil and copper prices declining at a significant rate.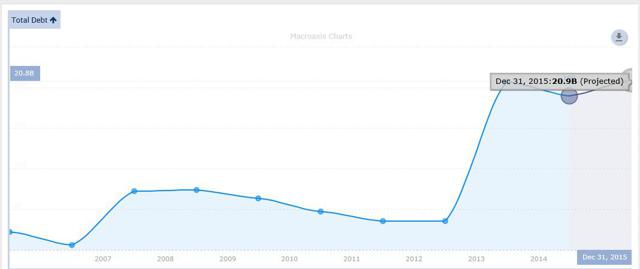 Source : Macroaxis.com
Since annual revenues are at similar levels to the company's debt levels and net income is in the red, there is little it can do at the moment to grow considering where we are in the commodity cycle. Capex in mining and oil and gas have already been cut along with copper guidance for 2016 to 5.25 billion pounds. The only thing that can grow this company now is higher oil and copper prices from a weaker dollar. Let's discuss.
Firstly, many analysts believe that China (in terms of its copper demand) is the deal breaker for Freeport-McMoRan. China consumes 40%+ of the world's copper, so obviously it is hugely important to Freeport, being the largest copper miner in the world. If strict Chinese demand will govern Freeport's fate, then this company has a problem. The manufacturing sector in China seems to be falling as the PMI chart below currently shows a figure of 47. When the figure is 50+, the manufacturing sector is believed to be expanding and when it is below 50, the sector is believed to be contracting. For copper, the PMI index is tied closely to car sales, which are also falling in China.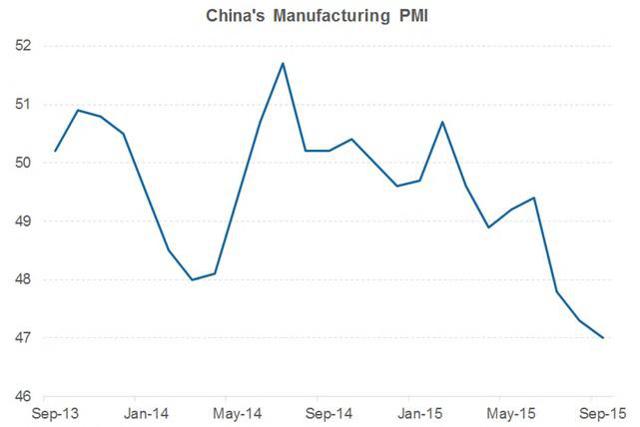 Source : Tradingeconomics.com
However, the world changed in 2008 when the central bank in the US underwent huge asset purchases in order to avoid a great depression. Since then, all major central banks have followed suit which has resulted in an awash of capital ending up in equity and bond markets. We have mainly seen the inflation in these areas and deflation in the commodity markets. Furthermore, the commodity markets have been further suppressed by the expectation of a hike in interest rates in the US. Personally, I believe this expected hike will not come, and QE4 in the US is a more likely outcome especially when you look at recent behavior of the equity markets. With technical damage already done to the SPY in August, and the index currently trading under 1,900, I see next support at the 200-week moving average, which is around 1,700. Investors should remember that the steeper the drop, the more bearish it will be for the dollar. If indeed we get QE4, interest rate hikes and dollar strength should be permanently off the table, which would be bullish for commodities.
Secondly, what definitely has aided in the decline of this company over the last few years has been the lackluster performance of its Grasberg mine, which is essentially the anchor of the company's mining division. This mining complex is the largest copper and gold mine in the world in terms of recoverable reserves, but it simply hasn't delivered thus far for a variety of reasons. Geological, operational and employee problems have all stifled performance, but this asset is envied by its peers. In the short term, we will see reduced production due to a current water problem and harsh weather conditions, but these headwinds should only exist in the short term. However, once the company gets over these bumps, this asset should improve dramatically as activity closes in on the stellar grade ores this asset contains. The more activity (production) that can be done at this mine, the more the costs will come down meaningfully going forward. Furthermore, I was happy that the company didn't enter into a streaming agreement at this mine to raise badly needed funds. It could have, as this company would garner huge interest from streaming and royalty companies, but the company decided to issue equity to the tune of $1 billion instead to keep its balance sheet. Dilution is never good for shareholders but when you consider that the stock traded at $60 a share 5 years ago and the recent dilution will increase the share count only by 9%, the share price could easily double from these levels.
Finally, when you look at this company's valuation ratios, you see big value potential. Its price-to-book ratio is 0.69 and its price-to-sales ratio is 0.49 which definitely demonstrate that the stock is undervalued. Could it be a value trap? I don't think so especially when you see Carl Icahn recently acquiring an 8.5% stake in the company. Furthermore, as his stake has been recently diluted, Icahn will be more motivated than ever to make a return on his investment. It will be interesting to see how much clout Icahn has with company management and what the next course of action the company will take. Icahn's usual course of action when he enters companies is cuts across the board (capex, production, executive compensation and divestitures) in order to get the company reporting quarterly profits. However, now would not be a good time to sell off all non-core assets as prices realized would be poor, so more equity again might be the preferred choice here.
All in all, this company is very cheap when you consider the assets it has on its books. The company is trading at around 0.5 times revenue, which is cheap when you compare it to a Facebook (NASDAQ:FB) for example, which is trading for more than 7 times revenue. Wait for dollar weakness and then I would recommend entering here.
More