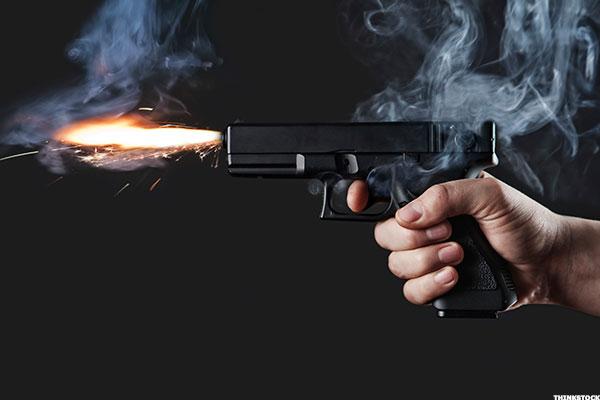 Gun maker stocks move every time a politician opens his or her mouth. At least that's how it seems. It's well known in the industry that the biggest driver of consumer demand for weapons is the fear of regulation that would curb, if not ban, sales.
Comments Tuesday by Donald Trump, the Republican nominee for president, seem to be cutting both ways Wednesday. The headline in the New York Times today on the story regarding his remarks reads: Trump Suggests Gun Owners Could Stop Clinton Agenda.
The response in stocks of gun makers suggests investors don't quite know how to interpret this week's political developments. Shares of Smith & Wesson Holdings (SWHC) closed up 16 cents to $29.88 in the session's midday trading. The other large publicly traded gun maker, Sturm, Ruger & Co. (RGR) , ticked up 48 cents to a close of $66.67.
Perhaps the better option for the investor looking to play off the uncertainty the political overhang represents for the gun industry is simple: don't buy the weapons. Buy the bullets.
Vista Outdoors (VSTO) makes bullets. A lot of bullets. The company commands 40% of the market for ammunition. The stock is trading hard by its all-time high at just over $51 a share.
There could be some movement in the shares as soon as tomorrow, when the company reports its fiscal first quarter. Forecasts call for 68 cents a share, a 30% improvement over last year's showing. Vista has had a good...
More