Shares of TCF Financial Corporation TCF rose 2.2% in single-day trading following the third-quarter 2017 earnings release on Oct 27, before the market opened. The company reported earnings per share of 29 cents, lagging the Zacks Consensus Estimate and the prior-year quarter figure of 31 cents.

Despite an earnings miss on elevated expenses and provisions, investors were optimistic on strong top-line performance which led shares to rise.

Furthermore, margin pressure seems to be easing. The quarter also witnessed continued rise in loans and deposits, while maintaining a solid capital position. However, declining fee income raises concern.

The company reported net income of $60.5 million, up 7.5% from $56.3 million recorded in the prior-year quarter.

Revenues Escalate, Cost Pressure Persists

Total revenues came in at $343.3 million in the quarter, up 3.5% year over year. However, the top line came in line with the Zacks Consensus Estimate.

Net interest income was up nearly 10.4% year over year to $234.1 million. The rise was mainly attributable to increased interest income on loans and leases, partially mitigated by decreased interest income on loans held for sale and rise in total interest expense.

NIM of 4.61% expanded 27 basis points (bps) year over year due to higher average yields on the variable-and adjustable-rate loans due to rise in interest rate, partly mitigated by elevated average rates on certificates of deposit.

Non-interest income came in at $109.2 million, down 8.7% on a year-over-year basis. Absence of net gains on sales of auto loans and reduced net gains on sales of consumer real estate loans, along with lower fees and other revenues, mainly led to the fall.

TCF Financial reported non-interest expenses of $235 million, up 2.7% from the prior-year quarter. The rise mainly reflected significant increases in net other credit costs and operating lease depreciation.

As of Sep 30, 2017, average deposits improved 2.9% year over year to $17.6 billion. Average loans and leases climbed 6.2% year over year to $18.4 billion in the quarter.

Credit Quality: A Mixed Bag

Credit quality for TCF Financial reflected mixed credit metrics. Net charge-offs, as a percentage of average loans and leases, contracted 8 bps year over year to 0.18%. The decline was chiefly attributable to an improved credit quality in the consumer real estate portfolio, partially offset by increase in net charge-offs in the auto finance portfolio.

Additionally, non-accrual loans and leases, and other real estate owned plunged 34.7% year over year to $146 million.

However, provisions for credit losses were $14.5 million, up 4.7% year over year, primarily due to higher reserve requirements associated with the recent hurricanes.

Robust Capital Position

TCF Financial's capital ratios remained strong. As of Sep 30, 2017, Common equity Tier 1 capital ratio was 10.05% compared with 10.24% as of Dec 31, 2016. Total risk-based capital ratio was 13.21% compared with 13.69% as of Dec 31, 2016. Tier 1 leverage capital ratio was 10.88%, up from 10.73% as of Dec 31, 2016.

Our Viewpoint

TCF Financial delivered a decent performance in the third quarter. Consistent top-line improvement reflects the company's sturdy standing in the market. At the same time, a strengthening capital position and improving credit quality in consumer real estate portfolio are expected to favor the company's future growth. In addition to this, we believe the company's efforts to reduce balance sheet risk and diversify the loan portfolio will augur well for its earnings in the subsequent quarters. Also, steady improvement in the economy will support the future performance of the company.

Nevertheless, we remain apprehensive owing to several issues, including an expanding cost base and decline in fee income.

TCF Financial Corporation Price, Consensus and EPS Surprise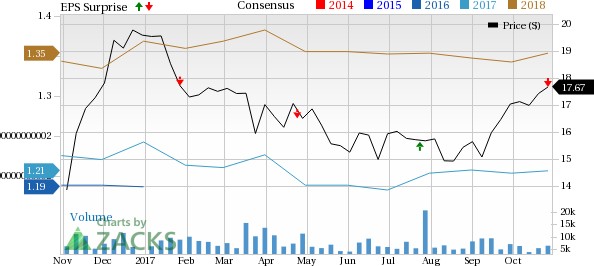 TCF Financial Corporation Price, Consensus and EPS Surprise | TCF Financial Corporation Quote
TCF Financial currently carries a Zacks Rank #3 (Hold). You can see the complete list of today's Zacks #1 Rank (Strong Buy) stocks here.

Performance of other Banks

Regions Financial Corporation's RF third-quarter 2017 earnings from continuing operations of 25 cents per share came in line with the Zacks Consensus Estimate. The figure came in 4.2% higher than the prior-year quarter tally. Easing margin pressure and lower expenses were the positive factors. Decline in non-interest income, along with lower loans and deposits balance, were the undermining factors. In addition, provisions escalated.

BB&T Corporation's BBT third-quarter 2017 adjusted earnings of 78 cents per share came in line with the Zacks Consensus Estimate. Results recorded 2.6% bottom-line improvement from the year-ago quarter. Results reflected an increase in revenues and higher expenses. The quarter witnessed a drop in loans and leases and deposits. Additionally, provision for credit losses decreased, which was a tailwind.

Driven by top-line strength, Synovus Financial Corporation SNV recorded a positive earnings surprise of 1.6% in third-quarter 2017. Adjusted earnings of 65 cents per share beat the Zacks Consensus Estimate by a penny. Also, the reported figure came in 25% higher than the prior-year quarter tally. Higher revenues backed by strong loans & deposits balances drove organic growth. Notably, lower efficiency ratio was a tailwind. Moreover, positive impact of rising rates was witnessed.

Zacks' Best Private Investment Ideas

While we are happy to share many articles like this on the website, our best recommendations and most in-depth research are not available to the public.

Starting today, for the next month, you can follow all Zacks' private buys and sells in real time. Our experts cover all kinds of trades… from value to momentum . . . from stocks under $10 to ETF and option moves . . . from stocks that corporate insiders are buying up to companies that are about to report positive earnings surprises. You can even look inside exclusive portfolios that are normally closed to new investors.

Click here for Zacks' private trades >>
Want the latest recommendations from Zacks Investment Research? Today, you can download 7 Best Stocks for the Next 30 Days.
Click to get this free report
BB&T Corporation (BBT): Free Stock Analysis Report
Regions Financial Corporation (RF): Free Stock Analysis Report
Synovus Financial Corp. (SNV): Free Stock Analysis Report
TCF Financial Corporation (TCF): Free Stock Analysis Report
To read this article on Zacks.com click here.