A few weeks ago, William Blair analyst Ryan Merkel asked a question on Fastenal's Q3 call that newly-minted CEO Dan Florness did not appreciate. Here's the exchange:
Merkel: Then just lastly, Fastenal growing zero percent here in September and in a non-recessionary environment, it's pretty surprising, I think, for a lot of us. 

 

Florness: The industrial environment is in a recession - I don't care what anybody says, because nobody knows that market better than we do. You know, we touch 250,000 active customers a month.  
Roger that, Mr. Florness. 
Of course it's not just the fact that 32 of Fastenal's top 100 customers are seeing top line declines of more than 10% that leads us and others to suggest that the US may already be in a recession. Indeed, it's not even the fact that 17 of those 32 are grappling with declines of 25% or more. Rather, the evidence is everywhere. Take bellwether Caterpillar for instance, which is in the midst of a truly historic sales slump that's now entering its 35th month. 
And so, while the likes of Dan Florness remain extremely concerned about the current industrial environment, one person who isn't concerned about potential spillover effects into the "rest" of the US economy is Goldman's David Mericle, whose last name is not to be confused with "miracle", although as you can see from the excerpts below, that's precisely what Dave seems to be banking on.
First, the bad news:
We continue to see the underlying pace of economy-wide growth as moderately above-trend. But manufacturing surveys and recent earnings reports suggest that the manufacturing sector might be following the energy sector into contraction. The large gap between the manufacturing and non-manufacturing sectors that opened at the beginning of this year has widened in recent months, raising concerns that the more foreign-exposed manufacturing sector could become a channel through which weaker global growth affects the US economy. 

 

 

The sharp contraction in the energy sector has contributed to the slowdown in industrial production (IP). The left panel of Exhibit 2 shows that the deceleration of IP is less severe when energy-related categories are excluded, and we have also found evidence that an additional 0.4pp of the slowdown is due to spillovers to other industries from drilling. Nevertheless, accounting for these contributions still leaves a substantial slowdown.

 
The good news, however, is that "this time is always, always different" - apparently:
US states vary in the manufacturing intensity of their economies, though the variation in the mining share (which includes energy) is much larger. We find that the loss of 1 manufacturing job has been associated historically with the loss of 1.5-2 jobs outside of the mining and manufacturing sectors.

 

But how large have spillovers from the recent slowdown been? To find out, we compare state-level employment growth outside of the manufacturing and mining sectors over the last year to three other state-level measures: (1) the manufacturing share of total payroll employment, (2) manufacturing earnings as a share of total earnings from the personal income report, and (3) exports originating in the state as a share of GDP. We do not find evidence of negative spillovers using any of these three variables, and the same holds for the manufacturing share of state GDP and growth rate of manufacturing employment over the last year.
Goldman's conclusion: "...while the slowdown in manufacturing is genuine and history suggests it will likely lead to some negative spillovers, the recent data do not show evidence of such spillovers yet."
Fair enough, but we would once again note that things seem to be deteriorating rapidly and it very well could be that the knock-on effects simply haven't materialized yet. For instance, consider the following and draw your own conclusions as to where the manufacturing sector is headed (from late last month):
With 14,600 manufacturing jobs lost in August, this was the worst month for the US manufacturing sector since January 2010.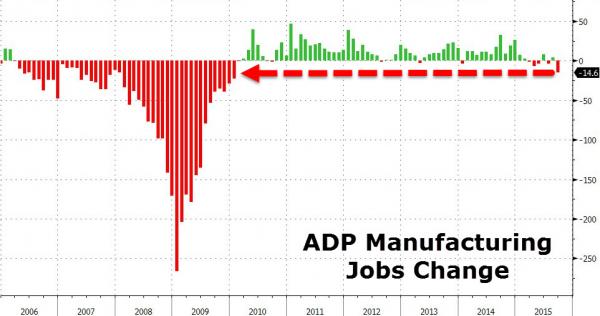 Where this data becomes more disturbing, and where it can be seen in full context, is when clustering the monthlies into full year buckets. It is here that the full impact of what is now clearly at least a manufacturing, if not yet service, recession can be witnessed.
As the chart below shows, according to ADP, for the first time this decade, the US hasn't created a single manufacturing job for the entire year. In fact, it has lost some 6,600 jobs.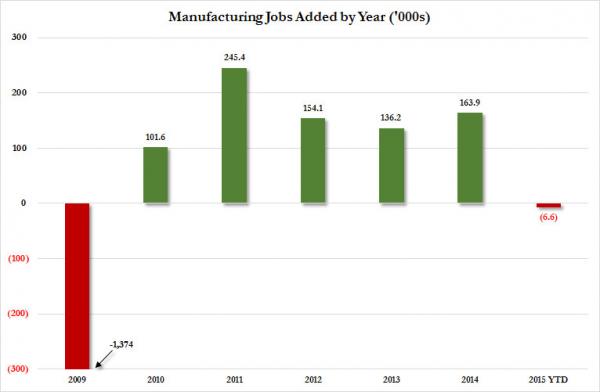 In other words, maybe - just maybe- Goldman is simply looking for "spillovers" prematurely. That is, if Fastenal's Dan Florness is correct, we've entered a definitive recession for the industrial environment and as the charts shown above clearly demonstrate, things took a decisive turn for the worst in September.
So we'll take a wait and see approach here, as we wait to hear from ADP again on November 4 and as we look towards the October NFP print but we're willing to bet that Goldman may be revising their upbeat assessment in the months ahead. Then again, who cares? It's all about waiters and bartenders these days...