Hewlett Packard Inc (HPQ) has been bullish for most of 2016. From the depth of 9.00, shares have rallied back above 14.00.
HPQ Daily Chart 8/25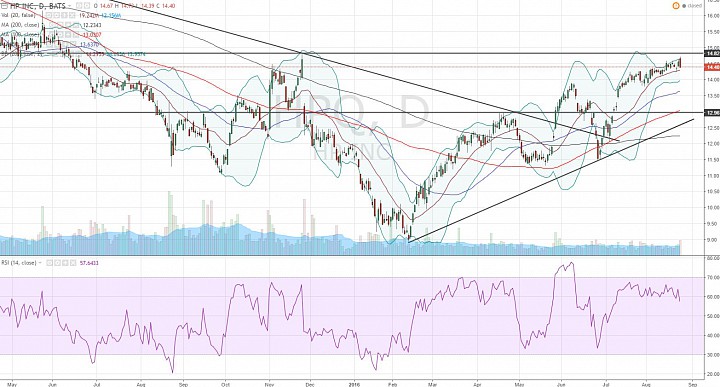 (click to enlarge)
Breakout and bullish reversal:
- The daily chart shows HPQ in a bullish reversal.
- First of all, we can higher highs and higher lows.
- Price broke above a falling trendline.
- Price also pushed and has stayed above the 200-, 100-, and 50-day simple moving averages (SMAs).
- These are signs that HPQ has at least flattened the bearish trend if not start a new bullish one. 
Resistance:
- The bullish trend will have to take a break as price approaches the Nov. 2015 high, which is a key resistance pivot.
- The 8/24 session candle was a bearish engulfing candle, which could be a sign that bears are strong here. (Note however that we had one such candle at the end of July, and still HPQ pushed higher). We need more resistance factors to give us confidence that bears are winning.
- We do notice a bearish divergence between price and the RSI. The fact that the RSI is not making it above 70 also suggests that momentum has slowed since the first half of the year. 
- Basically, we can anticipate some consolidation/correction.
Look for support:
- Since HPQ has neutralized and possibly reversed the pre-2016 bearish trend, we can have a bullish outlook. 
- This means, if price does indeed go into a bearish correction phase, we should anticipate buying at critical support levels.
- The daily chart shows that 13.00 will be key. This is a support/resistance pivot and a psychological handle, reinforced by a rising trendline.
There's not much "excitement" from in terms of fundamentals and news. But sometimes slow and steady does it for certain traders. Here's an excerpt from the latest article on HP from TheStreet.com
HP (HPQ) is expected to see its PC and printing businesses lift its latest quarterly results, but the tech behemoth will continue facing long-term headwinds.

When HP reports its fiscal third-quarter earnings on Wednesday after the markets close, it will likely see modestly positive results thanks to improved demand for PCs and printing.

Wall Street is expecting revenue of $11.4 billion and earnings per share of 44 cents. Shares were essentially flat at $14.57 Wednesday late morning ahead of the earnings.

"On the PC side, we note y/y trends in unit shipments improved from CQ1 to C2Q and HPQ saw share gains in this segment," wrote RBC Capital Markets analyst Amit Daryanani in a Monday note. "For printing, while data points from Canon confirm a mostly negative narrative, we think HPQ's intra-quarter Business Update call adequately reset expectations."

Daryanani further noted that recent PC data has suggested an improved worldwide PC environment, pointing to Gartner's report that global PC shipments reached 64.3 million units for the latest quarter.

Meanwhile, Canon's printing business has seen a decline of about 25% year-over-year, underlining the challenging print environment for HP, Daryanani said. Still, HP has essentially de-risked the unit with its plan to invest gains from the divestiture of its marketing optimization businesses that were previously under the printing division to OpenText (OTEX) .

While HP's third quarter may be see a boost for the time being, the Palo Alto, Calif., has long-term headwinds including a potential global economic slowdown and tough competition in its major markets. (More...)