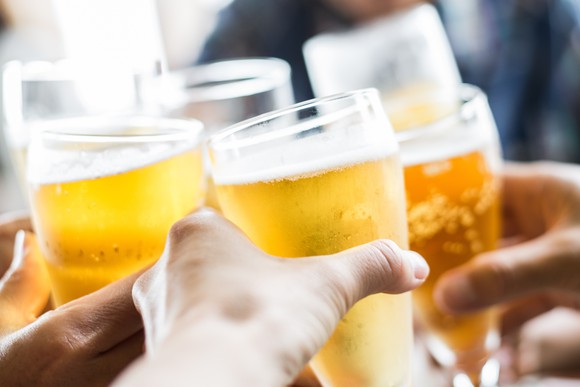 Recently, I had the pleasure of editing and publishing Rich Duprey's "Is It Time for Boston Beer Co. to Be Taken Private?" to Fool.com. In it, he lays out the case for Jim Koch, the founder of Boston Beer Co. (NYSE:SAM) -- the maker of Samuel Adams and numerous other craft-beer labels -- to take the brewer off the public market.
The argument he lays out warrants consideration, and Rich isn't the first person to call for big changes. In a Wall Street Journal piece, titled "Upstart Brewers Rise Against Craft-Beer Founding Father Samuel Adams," author Tripp Mickle quotes Susquehanna Financial Group analyst Pablo Zuanic as saying, "It is time for Boston Beer to consider selling itself." The article then goes on to point out that "Sam Adams has gotten too big and familiar to be considered an authentic craft by elitist beer connoisseurs, yet it isn't hefty enough to have the cost advantages of big brewers."
Boston Beer is at a crossroads. But it's also in a unique position to further the cause of craft brewing and reward its shareholders in the process. Here's how.
Stuck in limbo
Craft brewing, as a category, has exploded over the past two decades, as Americans craved an ever-wider variety of beer options. There are more independent breweries in the United States today than at any other point since 1873: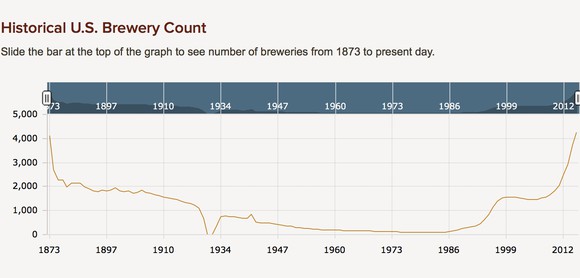 What defines a craft brewer is in itself interesting. The frequent source for such matters, the Craft Brewers Association, defines it as an entity that (1) produces 6 million barrels of beer or fewer per year, (2) is less than 25% owned by an alcohol industry member that is not itself a craft brewer, and (3) has a culture of innovation, among other qualitative measures. The irony is that the 6 million-barrel annual production number was upped in 2010 from 2 million barrels, to include none other than Boston Beer.
Two things seem obvious. First, the exact definition of a craft brewer is, as with most things in life, in the eye of the beholder. Second, most in the industry still respect Sam Adams' status as a craft brewer. At the very least, partnering with Boston Beer is preferable to making a deal with the megabrewers, as we recently saw when Virginia-based craft brewery Devil's Backbone was excluded from a Virginia craft-brewers' festival that it had pioneered, for the simple reason that it had recently sold out to the biggest brewer of them all, AB InBev (NYSE:BUD). This perception is precisely where Boston Beer's advantage lies.
Making beer vs. making money
Imagine you're a craft brewer. You have a small operation, brewing beer out of just one facility, and you do it more for the love of a good beer you want to share than for the money. And that's a good thing, because -- let's face it -- you probably aren't making a mint as a craft brewer. Odds are that your operations cost over $1 million to get started, and any conversation you have with distributors involves constant haggling over pricing and volumes.
Then comes the hard part: You have to hope that consumers buy your beer at local stores, on a consistent basis, for years to come. Sounds like a gamble, right? It is.
Data on the profitability of craft brewers is spotty at best, but it's well known that for every successful story, there are dozens that fail. There just isn't enough space in grocery-store beer aisles to accommodate everyone. Even smaller peer Craft Brew Alliance (NASDAQ:BREW), a company trying to strike a delicate balance between profitability and engendering the quality associated with craft beers, leaves much to be desired in terms of profitability:
| Metric | FY 2011 | FY 2012 | FY 2013 | FY 2014 | FY 2015 |
| --- | --- | --- | --- | --- | --- |
| Revenue | $149.2 million | $169.2 million | $179.2 million | $200 million | $204.2 million |
| Net income | $9.7 million | $2.5 million | $2.0 million | $3.1 million | $2.2 million |
| Return on Equity | 9.7% | 2.4% | 1.8% | 2.7% | 1.9% |
This leads us to the real advantage that the likes of AB InBev and Miller Coors (NYSE:TAP) hold. Over 100 years ago, they created the distribution infrastructure and massive facilities required to gain a dominant market share. This is why, in spite of its staggering growth, craft beer has...
More