We issued an updated research report on Boulder, CO-based Clovis Oncology, Inc. CLVS on Jul 12.
Clovis got a huge boost in Dec 2016 when the FDA granted accelerated approval to its PARP inhibitor, Rubraca (rucaparib) for the treatment of advanced ovarian cancer, two months earlier than expected. The approval was based on an encouraging objective response rate and duration of response from Study 10 and ARIEL 2. Clovis had in-licensed Rubraca from Pfizer Inc. PFE in 2011.
The company has raised $221.2 million from a public offering of common stock. The company plans to use a part of the net proceeds for commercial planning and sales and marketing expenses related to the launch of Rubraca in the U.S. and in Europe upon approval. General and administrative (G&A) expenses increased 198% year over year to $29.2 million in the first quarter of 2017, reflecting commercialization costs for Rubraca launch.
In Apr 2017, Clovis announced an agreement with Myriad Genetics to use the latter's FDA-approved BRACAnalysis CDx test to identify patients with germline BRCA mutations eligible for treatment with Rubraca. It has a previous agreement with Foundation Medicine to use its FoundationFocus CDxBRCA companion diagnostic test for the identification of eligible patients.
So far this year, Clovis' share price has significantly outperformed the Zacks categorized Medical-Biomed/Genetics industry. The stock has surged 114.6% compared with an increase of 7.9% for the broader industry.

Rubraca is the only approved drug in the company's portfolio and is the first and only oral PARP inhibitor to receive approval as monotherapy. The drug is approved for patients who have been treated with two or more chemotherapies, and selected for therapy based on an FDA-approved companion diagnostic for Rubraca.
Further approval for Rubraca in the U.S. in this indication depends on clinical benefit in confirmatory studies - ARIEL3 and ARIEL4.
Promising progression-free survival (PFS) and safety results from the ARIEL3 study were presented in Jun 2017, which showed that Rubraca has a meaningful impact in delaying disease recurrence in advanced ovarian cancer patients. Clovis is planning to file a regulatory application for label expansion to include a second line or later maintenance treatment for ovarian cancer based on ARIEL3 study in the second half of 2017.
Meanwhile, the second phase III confirmatory study - ARIEL4 - is evaluating Rubraca versus chemotherapy in patients who have failed two prior lines of therapy.
Meanwhile, Rubraca is also under review in the EU for a comparable ovarian cancer indication. An approval is expected in EU in late 2017 or early 2018 and Clovis is establishing the commercial infrastructure for the same.
Rubraca's prospects are bright as there is immense commercial potential in the target market and tremendous demand for PARP inhibitors. Per the American Cancer Society, ovarian cancer ranks fifth in deaths from cancer among women. Over 22,400 cases of ovarian cancer are estimated to be diagnosed in the U.S. in 2017. There is a huge unmet need for new treatment options, given that one in four women with ovarian cancer have a germline or somatic BRCA mutation.
Rubraca recorded sales of $7 million in the first quarter of 2017. The company mentioned that in the first quarter over 300 different healthcare practitioners had prescribed Rubraca with over 350 new patients starting therapy.
Successful commercialization will significantly boost Clovis' top line, going forward.
Moreover, Clovis is developing Rubraca in additional indications like prostrate, breast and pancreatic cancers, among others, either as monotherapy or in combination with other agents, including Tecentriq-Rubraca combination in gynecologic cancers. This combination study is sponsored by Roche.
The company is expected to face competition from currently marketed drugs for ovarian cancer including AstraZeneca plc's AZN Lynparza. With the launch of Tesaro, Inc.'s TSRO Zejula in Apr 2017, gaining market share for Rubraca will be challenging for Clovis.
Clovis Oncology, Inc. Price, Consensus and EPS Surprise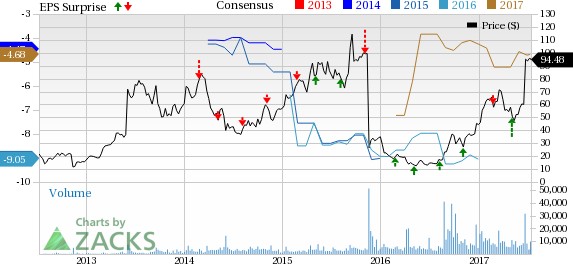 Clovis Oncology, Inc. Price, Consensus and EPS Surprise | Clovis Oncology, Inc. Quote
Zacks Rank
Clovis currently has a Zacks Rank #3 (Hold). You can see the complete list of today's Zacks #1 Rank (Strong Buy) stocks here.
More Stock News: This Is Bigger than the iPhone!
It could become the mother of all technological revolutions. Apple sold a mere 1 billion iPhones in 10 years but a new breakthrough is expected to generate more than 27 billion devices in just 3 years, creating a $1.7 trillion market.
Zacks has just released a Special Report that spotlights this fast-emerging phenomenon and 6 tickers for taking advantage of it. If you don't buy now, you may kick yourself in 2020. Click here for the 6 trades >>
Want the latest recommendations from Zacks Investment Research? Today, you can download 7 Best Stocks for the Next 30 Days.
Click to get this free report
Astrazeneca PLC (AZN): Free Stock Analysis Report
Pfizer, Inc. (PFE): Free Stock Analysis Report
Clovis Oncology, Inc. (CLVS): Free Stock Analysis Report
TESARO, Inc. (TSRO): Free Stock Analysis Report
To read this article on Zacks.com click here.
Zacks Investment Research