Trade with confidence. Are you a professional trader? Be the first to get the alert with Benzinga Pro's real-time newsfeed and audio squawk and never miss an opportunity again.
Don't miss the chance to try it FREE today.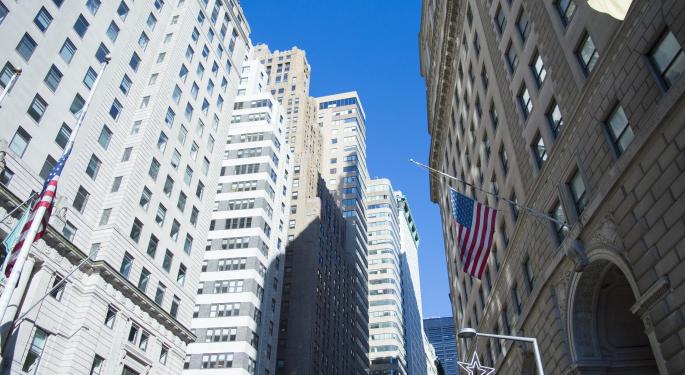 Below is a tool used by the Benzinga News Desk each trading day -- it's a look at everything happening in the market, in five minutes. Apply for daily AM access by clicking here or email minutes@benzinga.com.
Macros Focus
Asian stocks were mostly lower with the notable exception of Japan's Nikkei index, which extended its winning streak to 3 days and gained 1.20 percent. Investors were bullish on Japanese stocks following reports the country's central bank is considering a negative rate loan program.
European equities were mostly lower with more than four hours remaining in their trading session one day after the European Central's Bank warned that the region is heading back towards deflation and interest rates will remain negative "for an extended period of time." Oil was trading higher ahead of the U.S. trading session, with Brent and U.S. crude trading near $44.50 and $43.20 levels, respectively.
There will be no deal between Greece and its lenders that would unlock loans and enable vital debt relief talks, despite some progress on the reforms Athens must implement in exchange, eurozone and IMF officials said. "Don't expect any deals today," the chairman of euro zone finance ministers Jeroen Dijsselbloem told reporters, noting however, he was "hearing good news from Athens" on headway made in negotiations on a Greek reform package.
BZ News Desk Focus
"The markets did not expect new measures out of the ECB and, indeed, the central bank did not announce any additional actions," Mohamed El-Erian, chief economic adviser at Allianz, told Benzinga.
Earnings galore on Friday morning...
General Electric GE 1.79% Reports Q1 Adj. EPS $0.21 vs $0.19 Est.; Q1 Revenue $27.6B vs. $27.7B expected
McDonald's MCD 0.58% Reports Q1 EPS $1.23 vs. Est. $1.16, Rev. $5.9B vs. Est. $5.82B; Same-Store Sales Up 6.2%
Find out what's going on in today's market and bring any questions you have to Benzinga's PreMarket Prep.
Sell-Side Themes
Wall Street, in general, have put out a positive opinion on Kansas City Southern KSU 1.25% after the freight rail transportation services provider reported strong first-quarter results as the company offset the impact of flooding with cost controls and operating efficiency.
Sell-Side's Most Noteworthy Calls
Deal Talk
Allergan AGN 0.37% has acquired Topokine Therapeutics for an upfront payment of $85 million.
Orange ORAN 0.77% to acquire a 65 percent stake in Groupama Banque, which will become Orange Bank. This agreement concludes the exclusive discussions that have been ongoing between the two Groups since January and paves the way for the acquisition by Orange of a 65 percent stake in Groupama Banque. Groupama will retain the remaining 35 percent.
Boyd Gaming BYD 2.01% has entered into an agreement to acquire Aliante Casino Hotel and Spa for total net cash consideration of $380 million.
In The News
The Obama administration is buying 32 tons of heavy water, a key component in atomic-weapons development, from Iran in an effort to safeguard its landmark nuclear agreement with the country.
Cuba said it would lift a ban on Cubans and Cuban-Americans entering and leaving the Caribbean island by commercial vessels, opening the way for cruise operator Carnival CCL 0.35% to set sail for the country next week. Carnival's May 1 cruise, the first from the United States to the Communist-run country since the 1959 revolution, was thrown into doubt when the company triggered a backlash by refusing Cuban-Americans passage due to a Cold War-era law.
As CEO of Ultimate Software Group, Scott Scherr's pay tripled to $38.3 million last year, a filing showed this month. That's far higher than his rivals and more than the company earned itself. It even tops the compensation of Microsoft's Satya Nadella, who runs a firm 140 times the size of Ultimate. But is he worth it?
Blogosphere
Obama writes Op-Ed to "blood brother" Britain: Don't leave European Union (or else). Read how Zero Hedge breaks it down.
Should a sell market order have scooped up this trade?
Trending
#EarthDay enters its 46th year of a movement that continues to inspire, challenge ideas, ignite passion, and motivate people to action. In 1970, the year of our first Earth Day, the movement gave voice to an emerging consciousness, channeling human energy toward environmental issues.
Quote Of The Day
Sometimes it snows in April,
Sometimes I feel so bad, so bad.
Sometimes I wish life was never ending,
And all good things, they say, never last.
"Sometimes It Snows In April" from One Nite Alone
Prince Rogers Nelson, 57, died Thursday after he was found unresponsive in an elevator at his studios in Minnesota. #PrinceWillNeverDie
© 2016 Benzinga.com. Benzinga does not provide investment advice. All rights reserved.