Shares of CarMax will reach $80 within a month

6 april 2015
CarMax, a US retailer of used cars and light trucks, issued solid financial report for its fiscal 2015 fourth quarter ended February 28. Revenues rose 14.2% y-o-y to$3.51 bn, exceeding consensus estimate of USD 3.49 bn. Used vehicle sales appreciated 12.9% to $2.9 bn, driven by higher unit sales. Unit sales of used vehicles increased 12.4% to 149,271 and their average selling price inched up 0.5% to $19,297. Comparable-store used vehicle unit sales rose 7% in the quarter due to increased customer traffic and improved conversion. Gross profit increased 23.9% y-o-y to $475.8 mn, with used vehicle gross profit per unit remaining stable at $2,148. Adjusted earnings per share of 69 cents highlighted an increase from 44 cents a year ago and also surpassed analysts' average forecast of 60 cents.
During FQ4, CarMax spent $210.6 mn to repurchase 3.4 mn shares under its existing share repurchase program. In full fiscal 2015, the company spent $912.8 mn to buy back 17.5 mn shares, and as of Feb 28, it had $2.37 bn of authorization remaining under its share repurchase program.
During FQ4, CarMax opened one store in the Cleveland market. In total, the company opened 13 stores in fiscal 2015, and as of Feb 28, it had 144 used car stores. CarMax intends to open 13-16 superstores in each of the next three fiscal years. In fiscal 2016, the company plans to open 14 stores and relocate one store whose lease is expiring. The company also intends to remodel around 15 older stores.
I believe that lower gasoline prices and forthcoming auto season will increase activity on the US used car market, which in turn will support CarMax's financials in the quarters to come. With target price of $80, CarMax's shares look attractive for medium-term investment, in my opinion. 
<!== INSTRUMENT %% %1440% ==!>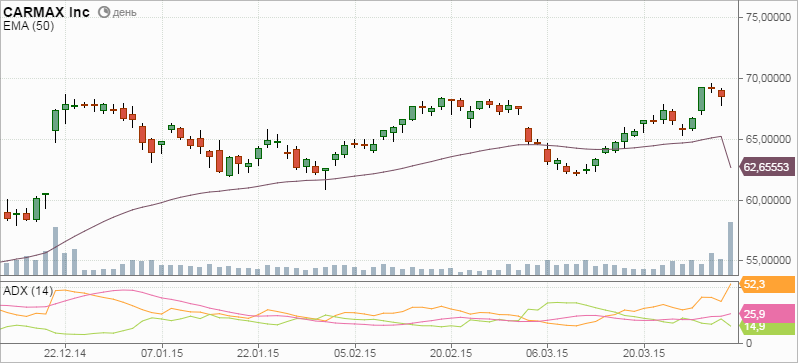 Voting is over
Waiting for


the right answer