In the early hours of this morning, yet another oil-carrying freight train derailed. Canadian National Railways says a fire continues to burn after a train carrying crude oil derailed  in Northern Ontario (near Gogama). As yet no injuries have been rported and a team of specialists are on the scene. This is the fourth derailment for CN Rail in Northern Ontario this year.
CN Rail says crews reported the derailment near Gogama, Ontario, about two-and-a half hours north of Sudbury, around 2:45 a.m.

 

No one was injured in the derailment, CN said.

 

The company said a number of teams, including senior operations, engineering, dangerous goods and environment officers were responding to the scene.

 

Ontario Provincial Police said Highway 144 between Highway 560 (Watershed) and Mattagami Reserve Road near the site of the derailment will be shut down for between 24 and 36 hours due to safety concerns.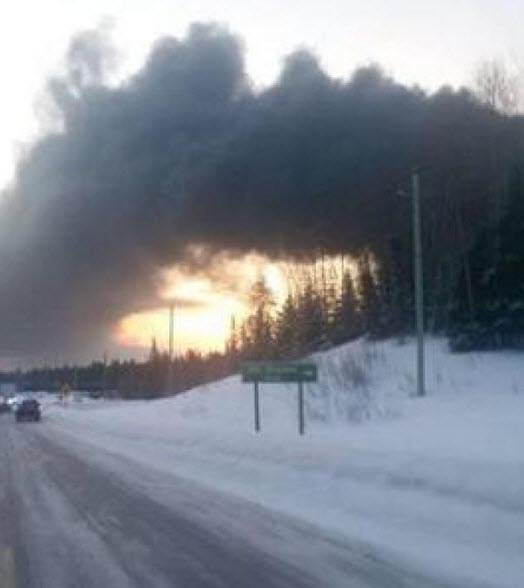 https://twitter.com/CBCnewsSudbury

https://twitter.com/SudburyStar

https://twitter.com/hashtag/gogama?src=hash

https://twitter.com/hashtag/Trainwreck?src=hash

pic.twitter.com/arWlV1NkUf

— MXICAN CNADIAN (@Themehicano)

https://twitter.com/Themehicano/status/574212126505570305
https://twitter.com/hashtag/Gogama?src=hash

train derailment: safety of shipping

https://twitter.com/hashtag/oil?src=hash

by rail questioned
http://t.co/W3AZTHAOi6 pic.twitter.com/TfBWxACEyd

— Sustainable Minerals (@resourcerules)

https://twitter.com/resourcerules/status/568357299997159424
https://twitter.com/hashtag/Gogama?src=hash

derailment investigaton continues
Q92 has pictures from the scene: http://t.co/iSrTK4Z7j4
-

https://twitter.com/GenuineGilmore

pic.twitter.com/FwYN1fy0Bh

— Q92 Timmins (@TimminsQ92)

https://twitter.com/TimminsQ92/status/568148268649213952
As CN states:
Train U70451-02 derailed along the Ruel subdivision of the CN main line, near Gogama, ON. The incident, which occurred at 0246hrs EST on Saturday, March 07, is currently impacting rail traffic running between Toronto, ON, and Winnipeg, MB.

 

CN crews are responding to the site in order to undertake the necessary repairs. Both westbound and eastbound traffic scheduled to cross the affected area is currently obstructed, and may be delayed by 24 hours or more. Every measure is being taken in order to reduce the impact to customer shipments.

 

We are following the situation very closely and will post further updates on this web page as they become available.
*  *  *
Time to update the chart...