Kroger's shares will reach $78 by 04.27.2015

27 march 2015
Kroger (KR), the biggest US supermarket operator, recently held an investor meeting, at which it outlined the following growth drivers:
- The company continues to deliver double-digit growth. According to the recently released forecast for Q4 2014, revenue increased by 8.5% y-o-y to USD 25.2 bn. LFL sales, except for gasoline sale centers, rose 6% to USD 20.2 bn. Notably, sales were positively affected by the acquisition of Harris Teeter last year. Operating profit was up 27% y-o-y to USD 912 mn, as a result operating margin advanced 0.5 pp to 3.6%. Adjusted EPS jumped 33.3% y-o-y to USD 1.04, noticeably outpacing median forecast of 94 cents.
- Kroger generates a significant cash flow, allowing the company to buy back its own shares, pay generous dividends and reduce the debt. The company ended FY14 with USD 268 mn in cash on accounts. Long-term debt amounted to USD 11.7 bn. Net debt/EBITDA ratio was 2.15 at the end of the reporting period compared to 2.43 a year ago. The company paid USD 1.6 bn to its shareholders via dividend payouts and buyback of shares. Quarterly dividend reached 18.5 cent per share (+12% y-o-y), yielding 1%.
Strong financial results in Q4 allowed the company's management to be upbeat about future prospects. Kroger expects LFL sales excluding gasoline to rose by 3-5%, taking into account lower inflation expected in the US. Adjusted EPS will reach USD 3.8-3.9, matching the company's target to increase this metric by 8-11% a year.
We raised target price of Kroger shares to USD 82 and confirm a Buy recommendation in the mid-term. The short-term technical target is USD 78. 
<!== INSTRUMENT %% %1440% ==!>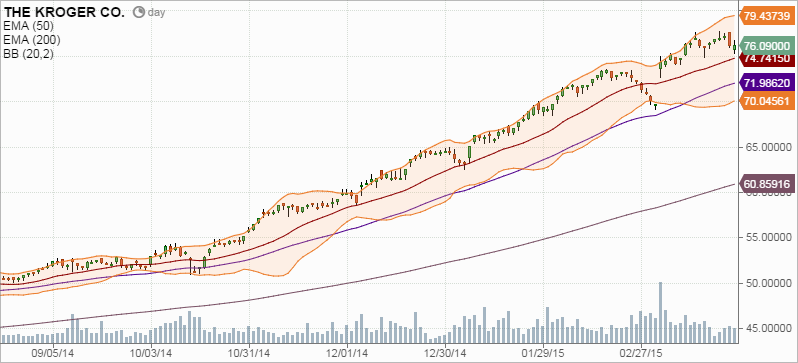 Voting is over
Waiting for


the right answer