Insperity Inc. NSP reported third-quarter 2017 adjusted earnings of $1.14 per share, beating the Zacks Consensus Estimate by 16 cents. The figure surged 46.2% from the year-ago quarter.

Revenues of $795.5 million increased 13.2% on a year-over-year basis and topped the Zacks Consensus Estimate of $785 million.

The year-over-year growth was driven by 10.5% increase in the average number of paid worksite employees. Revenues per worksite employee per month were up 2.5% to $1,421.

The increase in worksite employee can be attributed to new client sales that were driven by a 12% jump in the average number of trained business performance advisors. Client retention averaged 99% in the third quarter.

Moreover, corporate leads, social media followers and unique visitors to insperity.com increased more than 30% in the reported quarter.

Insperity's stock has returned 38.6% year to date, substantially outperforming the 18.2% rally of the industry.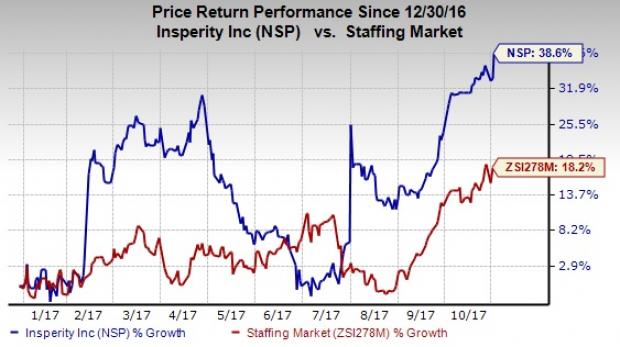 Operating Details

Gross margin expanded 80 basis points (bps) from the year-ago quarter to 17.6%. Gross profit per worksite employee per month increased 7.8% to $250.

Adjusted EBITDA increased 37.5% year over year to $43.1 million, which surpassed management's guidance of $37.5-$39.5 million. EBITDA per worksite employee per month increased 16.7% in the quarter to $63.

Operating expenses rose 15.9% year over year to $110.2 million due to increase in the average number of trained business performance advisors. Continued investments in the company's technology infrastructure, security and development also led to the upside.

Share Buyback Continues

Insperity exited the third quarter with cash, cash equivalents and marketable securities of $285.9 million compared with $243.8 million as on Jun 30, 2016.

To-date, the company has repurchased 349,000 shares at a cost of $27 million and paid $18 million in cash dividends.

Guidance

For fourth-quarter 2017, Insperity projects adjusted earnings in the range of 91-95 cents per share. Adjusted EBITDA is projected in the range of $36-$38 million. Average worksite employees (WSEEs) are expected in the range of 189,800-191,600, representing growth of 10-11%.

For full-year 2017, Insperity now projects adjusted earnings of $4.71-$4.75 per share, up from previous guidance of $4.47-$4.60.

Adjusted EBITDA is projected in a range of $175-$177 million. Average WSEEs are anticipated in the 182,800–183,200 bracket, representing growth of 10-10.5%, but down from previous expectation of 11-12%.

Our Take

We believe Insperity is well poised to benefit from the booming professional employer organization (PEO) industry. Management claims that its flagship co-employment solution, Insperity Workforce Optimization, has been the most comprehensive business service in the marketplace for many years. Additionally, the launch of Insperity Premier in the third quarter is anticipated to be a key catalyst.

Moreover, improved client retention, diversified product portfolio, growth in worksite employees and strength in ancillary products are the other positives. Further, management stated that competitive positioning, gross-profit contribution, and operational excellence will drive future growth.

However, an increase in health-care costs does not bode well for the company as it is one of the major components of operating expenses. Furthermore, intensifying competition remains a major concern.

Zacks Rank & Key Picks

Currently, Insperity carries a Zacks Rank #3 (Hold).

Adobe Systems Inc. ADBE, Microsoft Corporation MSFT and Cadence Design Systems Inc. CDNS are some better-ranked stocks worth considering in the sector. While Adobe sports a Zacks Rank #1 (Strong Buy), Microsoft and Cadence carry a Zacks Rank #2 (Buy). You can see the complete list of today's Zacks #1 Rank stocks here.

Long-term earnings growth rate for Adobe, Microsoft and Cadence are pegged at 17.00%, 12.20% and 12.00%, respectively.
Zacks' Best Private Investment Ideas
While we are happy to share many articles like this on the website, our best recommendations and most in-depth research are not available to the public.
Starting today, for the next month, you can follow all Zacks' private buys and sells in real time. Our experts cover all kinds of trades… from value to momentum . . . from stocks under $10 to ETF and option moves . . . from stocks that corporate insiders are buying up to companies that are about to report positive earnings surprises. You can even look inside exclusive portfolios that are normally closed to new investors.
Click here for Zacks' private trades >>
Want the latest recommendations from Zacks Investment Research? Today, you can download 7 Best Stocks for the Next 30 Days.
Click to get this free report
Microsoft Corporation (MSFT): Free Stock Analysis Report
Adobe Systems Incorporated (ADBE): Free Stock Analysis Report
Cadence Design Systems, Inc. (CDNS): Free Stock Analysis Report
Insperity, Inc. (NSP): Free Stock Analysis Report
To read this article on Zacks.com click here.
Zacks Investment Research