While the US coast guard and search and rescue teams scour the Caribbean seas around the Bahamas for traces of debris from the missing cargo ship El Faro, which disappeared in the eye of Hurricane Joaquin with 33 mostly American crew members aboard more than three days ago, another tragedy struck moments ago when as AP reported an Amtrak train derailed in central Vermont near Northfield.
Fire official in Montpelier, Vt., says at least 4 people injured in Amtrak derailment -

https://twitter.com/NBCNews

http://t.co/dkXkuTTsWr

— Breaking News (@BreakingNews)

https://twitter.com/BreakingNews/status/651056218572759042
Several media outlets reported Monday morning that Vermont State Police and local fire and rescue agencies were responding to the scene in Northfield, about 10 miles southwest of Montpelier.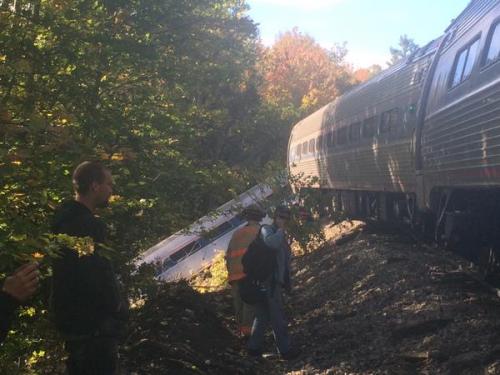 NBC reports that a spokesperson for the Montpelier Fire Department said they had reports of four people injured so far. There have been no reported deaths, the spokesperson, Lt. Dana Huoppi, said.
Initial reports from the scene indicated that five cars derailed, and two tumbled over a bank, Huoppi said.

 

The train was the "Vermonter," the daily service that runs between St. Albans, Vermont and Washington, D.C. It is the only Amtrak service that runs on the track. Regular freight service also runs on the track.

 

The train is popular at this time of year with tourists looking to soak in the annual fall foliage throughout Vermont and New England.
Photos of the crash are slowly trickling courtesy of Twitter.
Passenger on neighboring train takes photo of the Amtrak derailment in Vermont: https://t.co/nDjmqNQLS6 pic.twitter.com/mUiJTJ1irg

— Miles Kohrman (@MilesKohrman)

https://twitter.com/MilesKohrman/status/651058810514219008
Photo of derailment from passenger Sergio Vixopolich pic.twitter.com/OcElDVEEfV

— GinaConn (@GinaConnTA)

https://twitter.com/GinaConnTA/status/651057037451919360
More as we see it.