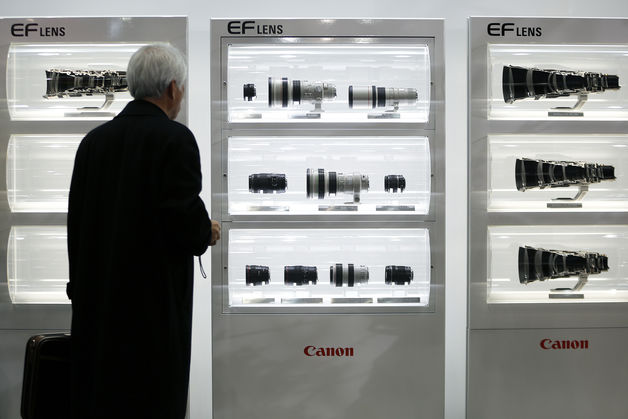 Photographer: Kiyoshi Ota/Bloomberg
Japanese stocks rose, with the Topix index erasing this year's loss to close at a six-year high, as exporters climbed with the yen trading near its lowest level against the dollar since 2008.
Canon Inc. (7751), the world's biggest camera maker, gained 0.8 percent. Rakuten Inc. added 4.9 percent after the e-commerce business agreed to buy U.S shopping-site operator Ebates Inc. Kyushu Electric Power Co. (9508) jumped 4.5 percent after a safety report on two of its reactors was approved by a nuclear regulator. Japan Display Inc., which makes screens for Apple Inc. devices, fell 1.8 percent after the U.S. technology company unveiled new products.
The Topix rose 0.6 percent to 1,306.79 at the end of trading in Tokyo, its highest close since July 2008. The gauge is up 0.4 percent this year. The Nikkei 225 Stock Average added 0.3 percent to 15,788.78 today, while the yen slid 0.3 percent to 106.48 per dollar after touching its lowest level since September 2008.
"The key driver for Japanese shares today is the yen weakness that's stemming from a stronger U.S. dollar," Timothy Radford, a strategist at Rivkin Securities in Sydney, said by phone. "If the U.S. economy continues to improve, the Japanese economy will benefit given that Japan has a large number of exporters."
The Topix (TPX) rebounded 15 percent from an April 14 low amid optimism about the global economy and speculation the $1.2 trillion Government Pension Investment Fund will buy more domestic shares. The measure traded at 1.3 times book value today, compared with 2.7 for the Standard & Poor's 500 Index yesterday, according to data compiled by Bloomberg.
Machine Orders
Data today showed Japan's machinery orders rose 3.5 percent in July from the month before, compared with analyst estimates for a 4 percent gain and an 8.8 percent rate in June. The economy contracted the most in more than five years in the second quarter, data showed this week, highlighting the challenge for Prime Minister Shinzo Abe in steering the nation through the aftermath of a sales-tax increase.
"People are taking a bit more seriously the idea that we could see more action from the Bank of Japan later this year," said Chris Weston, chief market strategist in Melbourne at IG Australia, a unit of IG Group.
The BOJ began its unprecedented easing in April 2013 in a bid to generate 2 percent inflation. The stimulus weakened the yen and set Japan on course to emerge from deflation.
Futures on the S&P 500 slipped 0.1 percent after the underlying gauge fell the most in a month yesterday. The Fed is gauging the strength of the economy as it winds down a bond-buying program and considers the timing of raising rates. Policy officials meet next week.
Exporters Advance
Canon climbed 0.8 percent to 3,495 yen. Honda Motor Co. (7267), a carmaker that gets 84 percent of sales abroad, advanced 1 percent to 3,627.5 yen.
Rakuten climbed 4.9 percent to 1,316 yen. The firm will pay $1 billion in cash for all of Ebates, a San Francisco-based website operator that offers cash back to customers who buy products ranging from laptops to lipstick from its retail partners.
Kyushu Electric gained 4.5 percent to 1,103 yen after Japan's atomic regulator approved a safety report for two reactors near Satsumasendai city on the southern island of Kyushu, another step toward restarting plants shut after the Fukushima nuclear disaster in 2011. A gauge tracking utilities rose the most among the 33 Topix industry groups.
Japan Display lost 1.8 percent to 587 yen. Apple yesterday revealed a smartwatch as well as bigger-screen iPhones, along with ways to use its latest gadgets to make payments at retail outlets like Macy's Inc. and McDonald's Corp. Apple's shares reversed a gain of as much as 4.8 percent yesterday to close 0.4 percent lower. The stock has typically fallen on days after it debuts products.
link