Not long ago, it appeared that Microsoft (NASDAQ:MSFT) shareholders finally had something to cheer about. Following its strong fiscal 2015 Q3 earnings report on April 23, Microsoft stock shot up about 10%. Even more importantly, its impressive run continued, with the stock climbing toward its 52-week high, giving investors the sense that there was substance behind the good tidings.
Alas, Microsoft's stock has since given up its gains and is now down 7% year-to-date, lagging the industry.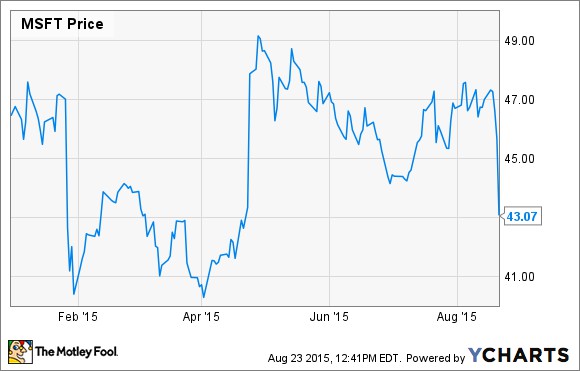 For patient growth and income investors, however, Microsoft's recent malaise -- including the impact of its massive writedown last quarter -- is in part what makes it such an intriguing opportunity. As fans are well aware, CEO Satya Nadella's "mobile-first, cloud-first" transition is hardly complete. The two key strategic pillars are, however, making impressive strides.
Add in one of the industry's best dividend yields at 2.9%, and Microsoft's story becomes even more compelling. Microsoft is not alone, though -- for many of the same reasons, IBM (NYSE:IBM) also warrants inclusion in the discussion of tech's best growth and income stocks.
This could get good
The more than $8 billion in special charges related to writing down its devices unit grabbed investors' attention when Microsoft announced its fiscal 2015 Q4 earnings on July 21. And though it wasn't quite as significant, the end of Microsoft's streak of seven consecutive quarters of triple-digit cloud revenue growth didn't help.
However, it's worth taking a closer look at Microsoft's Q4 earnings. If not for the write-off, Microsoft would have posted earnings-per-share (EPS) of $0.62 last quarter, a 13% improvement...
More