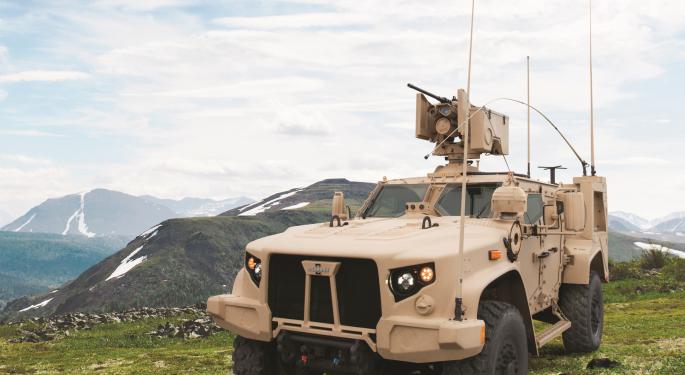 Because Oshkosh Corp OSK 1.36% has already nearly capped its forecast growth capacity, Deutsche Bank downgraded its rating to a Hold with a decreased price target of $71.
Downgrade Justification
Analyst Nicole DeBlase could not point to immediate growth catalysts for the particular company, but she asserted confidence in the general defense industry and its potential for growth next year.
DeBlase anticipated a return to growth for Oshkosh in fiscal year 2018, when Trump-administration infrastructure projects are expected to increase demand for access equipment. The analyst also predicted a 17-percent compound annual growth rate for EPS in the years preceding 2020.
"The Oshkosh story has not really changed and remains fundamentally attractive, in our view," DeBlase wrote.
Deutsche Bank's assessment falls in line with those of Longbow Research and JP Morgan, which downgraded their ratings to Neutral in December.
Still, Oshkosh shares improved 69 percent in 2016 against a 37-percent median increase in the machinery group. This represented a growth from $34.81 to $65.45, which rendered Oshkosh the fourth best performer among machinery peers.
Company shares were seen down 1.25 percent Wednesday at time of writing.
Image Credit: By https://oshkoshdefense.com/photo-gallery/?category=Vehicles - https://oshkoshdefense.com/photo-gallery/?category=Vehicles, CC BY-SA 4.0, Wikimedia Commons
| Date | Firm | Action | From | To |
| --- | --- | --- | --- | --- |
| Jan 2017 | Deutsche Bank | Downgrades | Buy | Hold |
| Dec 2016 | JP Morgan | Downgrades | Overweight | Neutral |
| Dec 2016 | Longbow Research | Downgrades | Buy | Neutral |
© 2017 Benzinga.com. Benzinga does not provide investment advice. All rights reserved.