First came the insult.
In the pre-holiday confusion, Elon Musk reported that Tesla had missed consensus estimates for Model S/X deliveries in Q2, when the electric car company sold just 22,000 vehicles, below the 22,912 expected, and just barely above the bottom end of its own range. As he always does, Musk blamed the disappointing data on production bottlenecks in this case a "severe battery production shortfall", yet that did not explain why i) Tesla produced nearly 4k more vehicles in the quarter, or 25,708 suggesting the problem was not on the supply but demand side, and ii) Musk - who enjoys tweeting almost as much as the president - never mentioned said production hurdle in public previously, either on the social network, in an 8K, or during the recent earnings call.
There was an even bigger problem: after topping at 11.5k deliveries in Q1, the coolness factor behind the Model X appears to have fizzled, with just 10K Model X deliveries in the second quarter.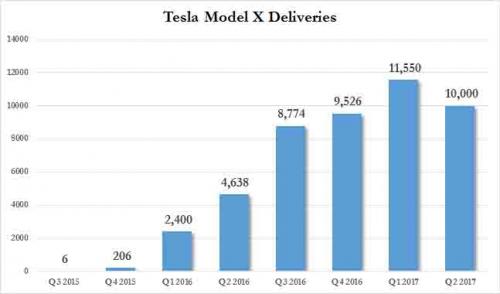 Now comes the injury, because moments ago Goldman, which has a "Sell" rating on the most overhyped stock of all time, said it was cutting its 6-month price target to $180 from $190 due to a "volume tweak" as "Model S/X" appear to have plateaued. Here is Goldman's David Tamberrino explaining what's changed:
Following TSLA's 2Q17 delivery and Model 3 announcements, we update our net volume forecasts as we believe that Model S and Model X demand is plateauing in the 24k range per quarter. However, with July being the soft launch date for the Model 3 (per company announcements) relative to our previously forecasted September launch date, we bring forward our Model 3 production curve by two months –but still remain well below the company's target production rates. Altogether, this drives a lower vehicle mix profile for TSLA and thus lower margins; our updated EBITDA estimates fall by an average 7% from 2017 through 2020. Further, our 6- month price target declines to $180.
Some observations from Goldman on the just released numbers:
1H17 deliveries of 47.1k came in at the lower end of the company's guided range of 47k-50k. Weighing on results, management noted a production shortfall in 100kWh battery packs that were detrimental to 2Q deliveries. However, TSLA was still able to slightly produce more vehicles in 2Q17 than in 1Q17 –though the excess production above deliveries was used to stock the right number and type of vehicles for its service and sales needs (per the company).

We believe the excess production above deliveries, the discontinued "order rate" metrics, and the company's 2H17 guidance (Model S and Model X deliveries to likely exceed) in combination with the past four quarters of delivery results point to a plateauing of demand for its current products. As a result, we lower our 2017 delivery estimates slightly and now forecast only moderate growth of an approx. 5% CAGR in our Model S and Model X volumes from 2018 through 2021 vs. our previous forecast for a 13% growth CAGR.
What are the implications from Goldman's update:
We remain Sell rated on shares of TSLA where we see potential for downside as the Model 3 launch curve undershoots the company's production targets and as 2H17 margins likely disappoint (we now forecast auto gross margin of approx. 16% vs. FactSet consensus of approx. 24.5% from Model 3 dilution). This comes as demand for TSLA's established products (Model S and Model X) appear to be plateauing slightly below a 100k annual run rate. Further, cash burn should intensify as we progress through 2017 –though we forecast the next capital raise in 1H18.
Finally, how Goldman gets to its valuation
Our 6-month price target declines to $180 (from $190), with our probability weighted automotive segment dropping to $138 from $150 on our vehicle forecast revision and lower margins. However, this is slightly offset by our Tesla Energy valuation which increases from $33 to $35 given higher battery pack sales (result of lower vehicle volumes). Our SolarCity valuation remains unchanged at $7.
The stock, which has defied logic and pretty much everything else YTD, but appears to have cracked in recent days, is not happy following the downgrade news.