Splunk provides software products that enable organizations to gain real-time data, the company calls it Operational Intelligence. The platform enables enterprise clients to manage all the information, all the data the company has. The company's stock lost almost 25% over the last few months and keeps dropping down (-1.65% today). 
<!== INSTRUMENT %% %1440% ==!>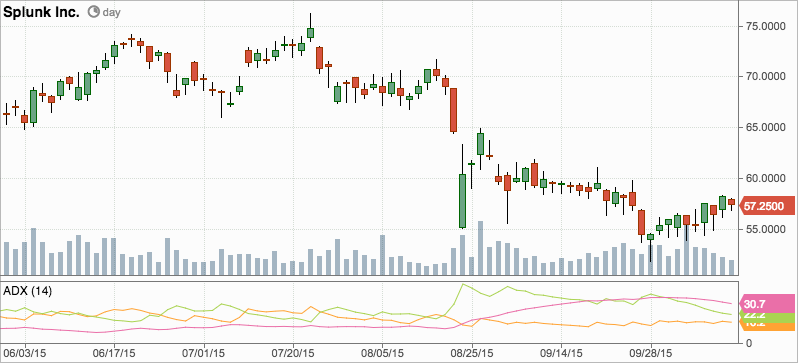 Let's check if that's the bottom point and the stock price can turn around or it will continue this downtrend. The Splunk developed the platform for Enterprise clients, hence, the average cheque is high. The company gets the subscription revenue from the clients depending on the complexity of the model and functions used. 
Operating metrics
Number of clients and ARPA
Number of customers is growing, 3-y CAGR is around 20%. We've already checked the company Workiva with also high customer base growth rate. However, if Workiva's ARPA is growing up as well as customer base, Splunk's ARPA growth rate is around 9%. This is the common trend - the company reduces the ARPA to get more clients.
Marketing expenses andcCustomer acquisition cost
Customer acquisition cost is growing as well as marketing expenses. Marketing expenses 3-y CAGR is around 40%. Customer acquisition cost increased from $119K in 2014 fiscal year to $172K in 2015 fiscal year (2015 fiscal year ended in January, 2015). I think that the strategy of rapid decrease in ARPA and steady marketing does not give necessary results - the company slowly kills its marginality. 
The Splunk platform is really complex and it requires lots of funds to develop it. Product development costs 3-y CAGR is more than 53%. Moreover, the company increased product development costs as % of revenue from 21% in 2013 fiscal year to 33% in 2015 fiscal year. There is no evidence that the company is able to stop spending too much money on product development. During the first half of 2016 fiscal year (February-July 2015) the company spent $94K on product development that is around 34% of revenue. 
Summary
As you can see, costs are growing faster than the revenue, the company is slowly killing its marginality. I think that the business model was more efficient in 2013 fiscal year, when sum of product development and marketing costs was less than gross profit. I think that the company needs to completely change the model, otherwise, it will have an operating loss over the next several years.