Investors' excitement about JPMorgan Chase & Co.'s JPM impending capital deployment post its stress test clearance might be dampened by its Q2 results on Jul 14, as the quarter doesn't appear to have offered a favorable backdrop for the bank. Particularly, trading and investment banking businesses, which significantly influence JPMorgan's performance, were weak during the quarter.

On the other hand, one of the key factors that could help the bank counter challenges and win investors' confidence is the impact of rising rates on its interest income. Even if the immediate impact doesn't look substantial, a positive trend will make investors consider its potential to earn from huge investable assets.

Further, decent sequential growth in commercial and industrial loans as well as real estate lending might translate into some revenue improvement. Support might also be lent by moderate growth in consumer loans.

Lower expenses have also been reliable in driving earnings for quite some time. However, we do not expect major contribution in this respect with JPMorgan's limited scope to reduce expenses further.

The trend in earnings estimate revisions clearly depict pessimism. The Zacks Consensus Estimate for the to-be-reported quarter was revised 1.9% downward over the last 30 days to $1.59, with five out of seven estimates moving lower and none moving higher. However, the Zacks Consensus Estimate reflects a year-over-year improvement of 2.6%.

Decreasing earnings estimates increase the chance of a beat. However, our quantitative model doesn't point to an earnings beat this time. Here's why:

JPMorgan doesn't have the right combination of the two key ingredients – a positive Earnings ESP and a Zacks Rank #3 (Hold) or better – for increasing the odds of an earnings beat.

Zacks ESP: The Earnings ESP for JPMorgan is -0.63%. This is because the Most Accurate estimate of $1.58 is lower than the Zacks Consensus Estimate. You can uncover the best stocks to buy or sell before they're reported with our Earnings ESP Filter.

Zacks Rank: JPMorgan carries a Zacks Rank #3 (Hold), but this alone isn't enough to increase the chance of an earnings beat.
J P Morgan Chase & Co Price and EPS Surprise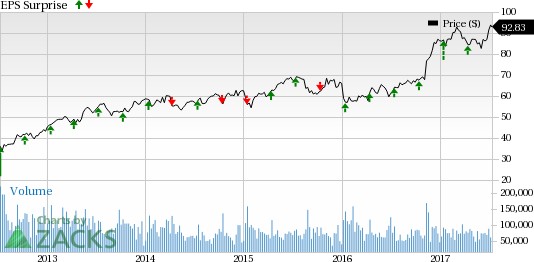 J P Morgan Chase & Co Price and EPS Surprise | J P Morgan Chase & Co Quote
Here are the fundamental factors that should be at play:

Lack of market-moving developments to hurt trading revenues: Trading activities remained sluggish for the major part of the quarter in the absence of any tangible development on the reforms proposed by the Trump administration, lesser geopolitical tensions and an unchanged monetary policy standpoint of the Fed. Though the market witnessed some volatility at the very end of the quarter induced by renewed reform talks and steps, it may not be sufficient for JPMorgan to show any improvement in trading revenues.

During an investor conference at the end of May, Chief Financial Officer Marianne Lake disclosed that the quarter's Markets revenue was down 15% till then. He held a slump in fixed income responsible for this decline. Fixed-income was hit hard, but trading in equities was relatively better during the quarter.

Lack of investment banking activities to curb revenues: Overall investment banking business in the U.S. was not impressive during the quarter with lack of equity issuance and M&As. But JPMorgan's dominance in this space might save it from suffering a loss.

Mortgage revenues might not be a major support: Expectations of a higher rate environment and relaxation of regulatory restrictions might have encouraged refinancing activities during the quarter, helping JPMorgan generate some mortgage revenues. However, with the refinance boom nearing its end, no major support is expected from this segment. Moreover, unlike Wells Fargo and U.S. Bancorp, JPMorgan hasn't bulked up its mortgage banking businesses since the last recession. So, the contribution of mortgage revenue gains to total revenues will not be extraordinary.

Loan growth might lift net interest income: In addition to higher interest rates, a moderate improvement in lending — particularly, in the areas of commercial and industrial, and real estate — might energize interest income.

Lesser scope of cost containment: Expense reduction, which has long been the key method to remain profitable, may not be a major support this quarter and going forward, as the majority of unnecessary expenses have already been cut by the bank. However, there were no major outflows related to legal settlements that might impact the firm's earnings unusually in the to-be-reported quarter.

Stocks That Warrant a Look

Here are a few bank stocks that you may want to consider, as our model shows that these have the right combination of elements for an earnings beat this time around:

Comerica Incorporated CMA, scheduled to report results on Jul 18, has an Earnings ESP of +4.67% and a Zacks Rank #2 (Buy). You can see the complete list of today's Zacks #1 Rank (Strong Buy) stocks here.

Fifth Third Bancorp FITB has an Earnings ESP of +2.38% and carries a Zacks Rank #3. The company is scheduled to release results on Jul 21.

M&T Bank Corporation MTB has an Earnings ESP of +1.32% and carries a Zacks Rank #3. It is scheduled to report results on Jul 19.

More Stock News: 8 Companies Verge on Apple-Like Run

Did you miss Apple's 9X stock explosion after they launched their iPhone in 2007? Now 2017 looks to be a pivotal year to get in on another emerging technology expected to rock the market. Demand could soar from almost nothing to $42 billion by 2025. Reports suggest it could save 10 million lives per decade which could in turn save $200 billion in U.S. healthcare costs.

A bonus Zacks Special Report names this breakthrough and the 8 best stocks to exploit it. Like Apple in 2007, these companies are already strong and coiling for potential mega-gains. Click to see them right now >>
Want the latest recommendations from Zacks Investment Research? Today, you can download 7 Best Stocks for the Next 30 Days.
Click to get this free report
J P Morgan Chase & Co (JPM): Free Stock Analysis Report
Comerica Incorporated (CMA): Free Stock Analysis Report
M&T Bank Corporation (MTB): Free Stock Analysis Report
Fifth Third Bancorp (FITB): Free Stock Analysis Report
To read this article on Zacks.com click here.