Copper price could be in another bearish swing. 

Copper Daily Chart 8/3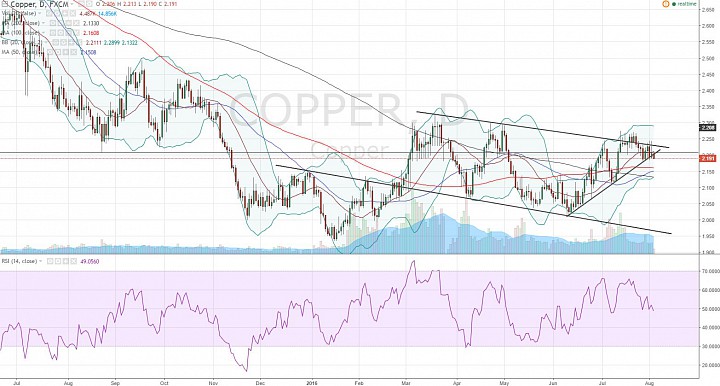 (click to enlarge)

Falling channel intact:
-Copper has been bullish since finding support at 2.012 - a projected channel support. 
- It has rallied all the way to the projected channel and actually cracked it.
- However, as we can see from the daily chart, price failed to extend higher and remained in a falling channel mode. 
Copper 4H Chart 8/3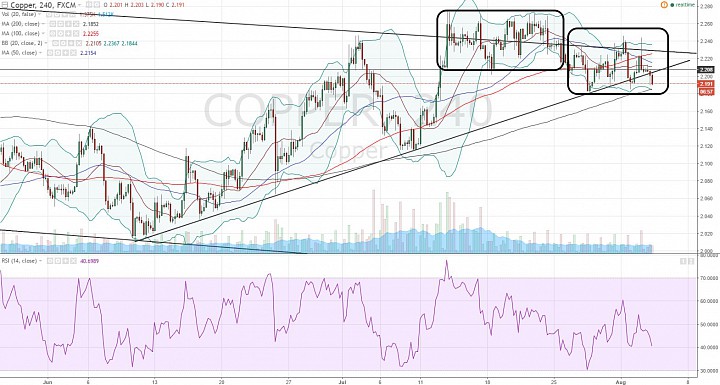 (click to enlarge)
Topping and breakdown:
- The 4H chart shows Copper finding resistance multiple times at 2.27 before topping. 
- I remember anticipating a successful breakout, especially after seeing how the consolidation was developing. 
- The fact that price still fell shows that bulls relinquished and that bears are in charge. 
- After that initial topping, the market consolidated again above 2.18. 
- However, bulls are unable to clear copper back above 2.24. 
- This failure is putting pressure back at the support around 2.18. 
- A break below 2.18 would clear 1) another consolidation support, 2) a rising support, and 3) the 200-period simple moving average (SMA). 
- A break below 2.18 will at least open up the next support pivot just below 2.12. 

At this point if 2.18 holds and price can climb back above 2.215, I would pull back on my bearish outlook. Otherwise, we should be seeing a slide towards 2.12.