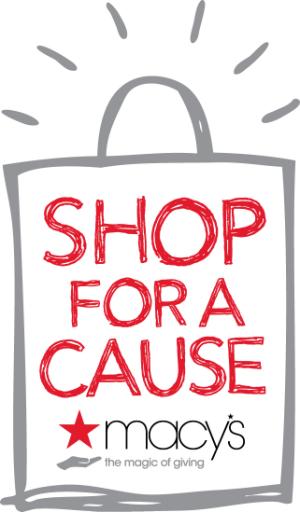 MIAMI--(BUSINESS WIRE)--
Macy's invites customers to participate in its 10th annual national "Shop For A Cause" charity event on Saturday, Aug. 29, 2015. Macy's "Shop For A Cause" is a unique, one-day-only shopping event created to support local charities' fundraising efforts. Since 2006, the program has helped raise tens of millions of dollars for thousands of charities across the country.
This Smart News Release features multimedia. View the full release here: http://www.businesswire.com/news/home/20150824005138/en/
Additionally, Macy's has designated the March of Dimes, the leading nonprofit organization in support of pregnancy and baby health, as its national in-store and online beneficiary of "Shop For A Cause." Customers will be invited to give $5 to the March of Dimes at any Macy's register and receive a savings pass valid for 30 percent off all-day on regular, sale and clearance merchandise, including home, 25 percent off designer apparel collections for men and women, Impulse, designer handbags, men's shoes, Wacoal, Tumi, Wustoff, Henkels, Kate Spade home and All Clad, as well as 10 percent off on electrics, electronics, watches, furniture, mattresses and area rugs all day Saturday, Aug. 29. Exclusions apply. See savings pass or visit macys.com/sfac for details. Customers are also eligible to win a $500 gift card.
In addition to the March of Dimes, more than 4,000 local charities have signed up to participate in the event this year. By giving $5 to their favorite local cause, customers will receive the savings pass to enjoy the special discounts on most...
More