I have been bearish on Shake Shack (SHAK), but the market has kept it going sideways. Let's take a look at the chart as price is now returning the range support.

Shake Shack (SHAK) Daily Chart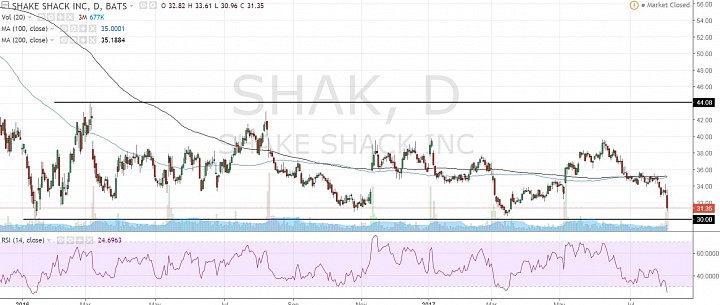 (click to enlarge)

30-44 Range:
- As we can see on the daily chart, price has been ranging between roughly 30 and 44 since early 2016.
- Before that, SHAK was falling from a height of 96.75 in 2015.
Support@30:
- We saw support at or just above 30 in early 2016, Oct/Nov 2016, March 2017, and now again here in August.
- Note that the highs have been lower and lower. The latest high from June matched but did not push above the earlier high at the turn of the year.
Bearish Scenario:
- From a chartist's perspective, there are 2 reasons to still not trust the support at 30.00:
1) Prevailing trend before 2016 was bearish.
2) The current sideways consolidation shows bearish bias because price highs have been gradually lower. The support has basically been the same.
- Basically, it looks like bears still control this market.
- If price does break below 30, there should be a pretty sharp slide down due to the length of the current consolidation.