Tougher U.S. and European sanctions on finance, military sales and energy are needed to stop Russia arming and supporting separatists and end the conflict in Ukraine, the country's ambassador to the U.S. said today.
At a Bloomberg Government lunch today in Washington, Olexander Motsyk ruled out a unilateral cease-fire by Ukrainian forces and questioned a purported humanitarian aid convoy from Russia. He said stronger sanctions are needed, even if that would restrict the energy exports on on which Ukraine and other European countries depend.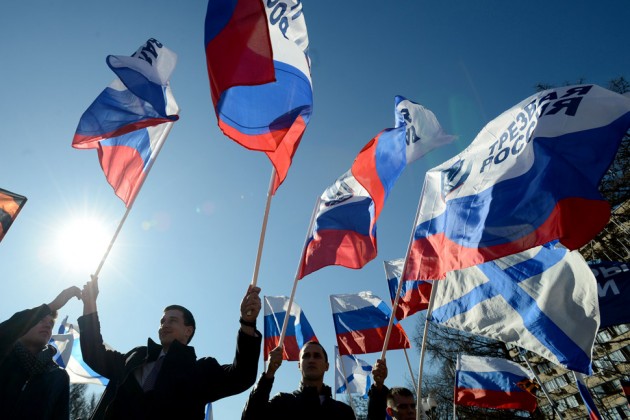 "Yes, there is some level of sacrifice, but it is sacrifice in the name of the peace and stability in Europe," Motsyk said.
While the sanctions already imposed on dozens of companies and scores of individuals linked to efforts to divide Ukraine send a message that "a state that violates international law has to be held accountable," they have "not changed Russia's actions yet," he said. More sanctions on vital sectors are needed to force Russia to back down and return Crimea to Ukraine, he said.
U.S. non-lethal assistance such as body armor, bulletproof helmets, communications equipment and meals are bolstering the Ukrainian military, Motsyk said. Government forces have reversed their losses in the last several weeks, recapturing three-quarters of the territory that had been seized by pro-Russian fighters, he added.
The U.S. and other NATO members are working with Ukraine, Motsyk said, though he declined to specify whether the assistance includes military training, intelligence or logistics. "Some things we already got, some things we hope to get as soon as possible," he said. "Step by step, we've improved our logistics and chain of command."
Military Momentum
The Ukrainian envoy acknowledged that his military's momentum recapturing cities in the country's east from pro-Russian militants brings with it the risks of urban warfare.
"We'll do our best to avoid civilian casualties," he said. "It's not that easy to fight in urban areas." Meanwhile, pro-Russian fighters "feel that they are losing; they are shelling at urban areas when they are advancing," he said.
Many of the militants, he said, are Russian citizens armed by the Russian military, an assertion backed by U.S. intelligence reports.
"If Russia would close the border to heavy armaments, we would solve the problem," he said. "The problem is that Russia continues to send across arms and assistance."
'Hybrid War'
Motsyk described the conflict as a "hybrid war against Ukraine" that includes "intervention and occupation" by Russian Special Forces and mercenaries, as well as cyber-attacks against the prime minister's office and the minister of foreign affairs that included the deletion of files. Hacking attacks also have damaged communications systems, he said.
"These are planned attacks," he said.
Motsyk said Ukraine is prepared as part of any resolution of the conflict to "provide a corridor" for pro-Russian militants to leave Ukraine for Russia. While he said Ukraine will "never, ever recognize the annexation of Crimea" by Russia, the government in Kiev is prepared to provide more autonomy and financial and taxation authority to local regions.
Ukraine is grateful for $1 billion in U.S. loan guarantees, but needs more financial and loan assistance from the U.S., and continued cooperation with the EU and the International Monetary Fund.
Asked about OAO Gazprom (GAZP), the Russian energy company that supplies about 30 percent of Europe's gas imports, and which cut off supplies to Ukraine two months ago in a payment dispute, Motsyk said his government still hopes a resolution can be reached.
Seeking Alternatives
In the meantime, Ukraine is boosting its gas production; cutting back consumption; seeking alternate sources such as coal, oil and nuclear power; and buying gas from Poland, Slovakia and other neighbors, he said.
The showdown over Gazprom and possible cutoff of Russian gas during winter is not a "life-or-death" crisis, he insisted.
"Yes, we're dependent" on Russian gas, "but at the end of the day, we will find a way, maybe even to agree with Russia," he said. "It's in the interest of Russia to resume negotiations, as well."
'It's a Market'
Motsyk dismissed concerns that Russia might try to bar other customers from selling gas to Ukraine. "It's a market: we can sell and we can buy," and Russia has no right to tell other countries that they can't resell Russian gas to Ukraine, he said.
Last week, Ukraine's parliament approved a law allowing U.S. and EU investors to buy up to 49 percent of NAK Naftogaz Ukrainy, which operates pipelines that are used to transport gas for domestic use and half of the Russian gas that Europe imports.
Motsyk said U.S. and European companies have expressed interest in bidding for transportation, storage and operations. He cited Chevron Corp. (CVX) based in San Ramon, California, as among the U.S. companies most involved in Ukraine's energy industry.
http://www.bloomberg.com/news/2014-08-19/more-russia-sanctions-are-needed-ukraine-ambassador-says.html