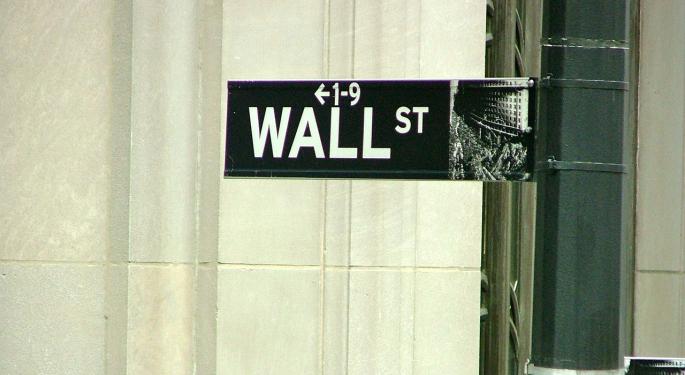 The major U.S. equity averages were higher to start the week, with the Dow, S&P and Nasdaq all closing at new-all time highs.
Among the gainers on the session were Twilio Inc (NYSE: TWLO), which had added 12 percent late in the day, and GoPro Inc (NASDAQ: GPRO), which climbed more than 9 percent near the close of trading. Among losing stocks were AngloGold Ashanti Limited (NYSE: AU), down around 5 percent, and SouFun Holdings Ltd (NYSE: SFUN), which was last down a little less than 5 percent.
Major Averages
The Dow Jones Industrial Average climbed 59 points to close at 18,636.
The S&P 500 added 6 points, or 0.28 percent, to 2,190.
The Nasdaq rose 29 points, or 0.56 percent, to 5,262.
Commodities
Commodities followed stocks higher, with the Bloomberg Commodity Index shedding around 0.84 percent.
NYMEX crude oil futures jumped a little better than 3 percent, while Brent contracts added 3.24 percent to $48.89. Natural gas rose 0.15 percent to $2.59.
Precious metals were slightly higher on Monday. COMEX gold futures rose 0.16 percent to $1,345.30 while silver rose 0.67 percent to $19.84. Copper futures added 0.42 percent to $2.1605.
In the grains complex, corn and wheat were mixed on the day. Corn futures rose 1.20 percent to $3.3700. Wheat contracts lost 0.40 percent to $4.3825. Cotton futures fell more than 2.50 percent to $68.86.
Bonds
Treasury prices were lower as money moved out of bonds. At the close of the equity session, the iShares Barclays 20+ Year Treasury Bond ETF (NASDAQ: TLT) had lost 0.94 percent to $138.76.
Treasury yields were as follows on Monday afternoon: The yield on the 2-Year Note was 0.72 percent. The 5-Year Note was yielding 1.14 percent. The 10-Year Note was last yielding 1.55 percent while the 30-Year Bond yield was 2.27 percent.
Currencies
The U.S. Dollar slightly lower on the session. At last check, the PowerShares DB US Dollar Index Bullish ETF (NYSE: UUP), which tracks the performance of the greenback versus a basket of foreign currencies, was down 0.16 percent to $24.71. The closely watched EUR/USD pair added 0.20 percent to 1.1184 euros.
Volatility and Volume
The CBOE Volatility Index (VIX) climbed on the day despite the market rally. Nevertheless, the VIX remains near 52-week low levels. At last check, it was up 2.25 percent to 11.81.
Volume was considerably lighter than normal to start the week. Only around 42 million SPDR S&P 500 ETF (NYSE: SPY) shares traded hands on the session compared to a 3-month daily average of just over 93 million. Just 11 million PowerShares QQQ Trust ETF (NASDAQ: QQQ) shares were traded on the day versus a 3-month average of more than 23 million.
© 2016 Benzinga.com. Benzinga does not provide investment advice. All rights reserved.