Observations
Today is the second day of the two best performing days in the year for the S&P 500 Index.
StockTwits Released Yesterday
Cdn. National Railway $CNR.CA, a TSX 60 stock moved above $89.40 to an all-time high extending uptrend.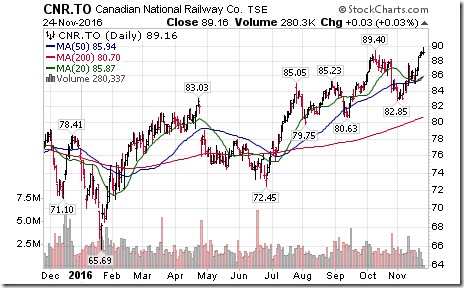 Cdn. base metal stocks lead TSX thanks to 5 cent increase in copper. $FM.CA, $HBM.CA, $LUN.CA.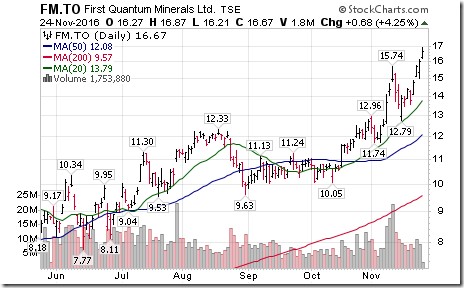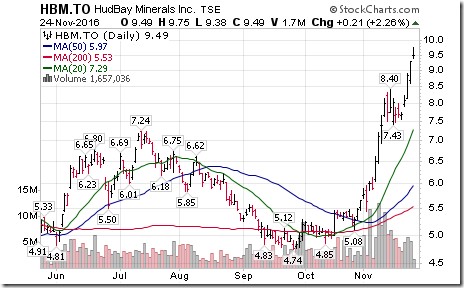 TransAlta $TA.CA moved above $6.24 after changed in Alberta Government policy.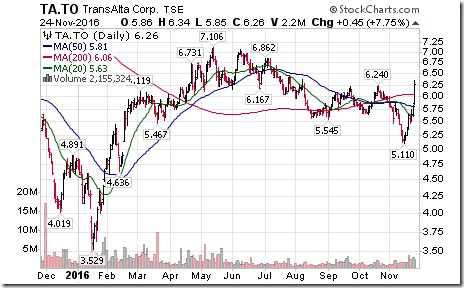 Paying it Forward
An opportunity to "Pay it forward" for valued free investment services offered by Tech Talk by donating to a worthy charity. Tech Talk's favourite charity is Wellspring, a unique charity that provides free services for people diagnosed with cancer. Jan and Don Vialoux are actively involved in the organization. Don is a cancer survivor. Wellspring's biggest charity event each year is its "Light Up Wellspring" event where individuals and companies make donations in order to "buy lights" that light up facilities for the Christmas season. Background on the event, Wellspring's services and how to donate are offered below.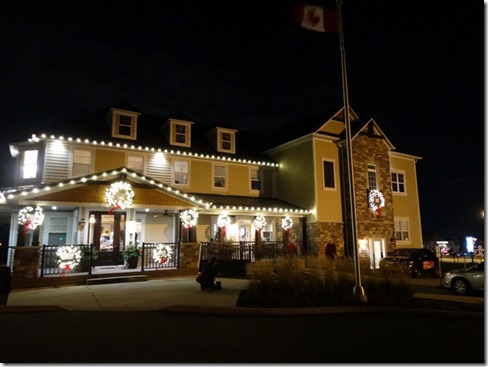 During the months of November and December Wellspring will be having our annual Light Up Wellspring fundraising campaign to celebrate the holiday season. You will be able to sponsor a bulb, strand of lights, wreath or tree and support the Wellspring centre of your choice. Your donation will be recognized throughout the centre on paper bulbs or on the sponsored wreath or tree.
On December 1, 2016, Wellspring welcomes the community, families and friends to light up their local Wellspring Centre with a holiday open house including festive refreshments, a bake sale and silent auction.
Give $5 and light up a bulb
(minimum of $10 donation online)
Give $25 and light up a strand of bulbs
Give $250 and light up a wreath or Hanukkah menorah
Give $1000 and light up a holiday tree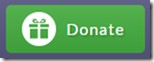 Event Details:
Thursday, December 1, 2016
6:00pm – 8:30pm, Official Lighting Ceremony at 6:30pm.
Wellspring Birmingham Gilgan House, 2545 Sixth Line, Oakville, ON L6H 7V9
To learn about sponsorship opportunities, please click here.
Trader's Corner
No changes from November 23rd
Daily Seasonal/Technical Equity Trends for November 24th 2016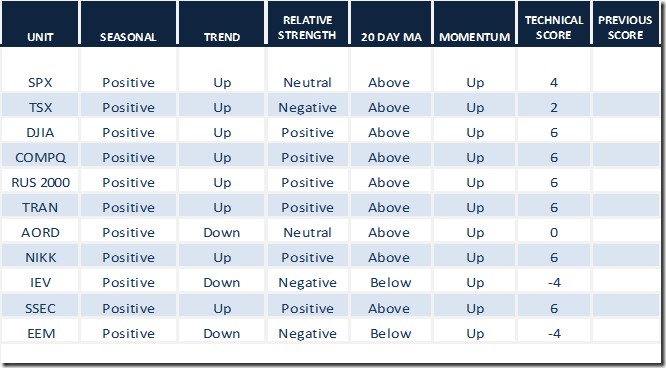 Green: Increase from previous day
Red: Decrease from previous day
Daily Seasonal/Technical Commodities Trends for November 24th 2016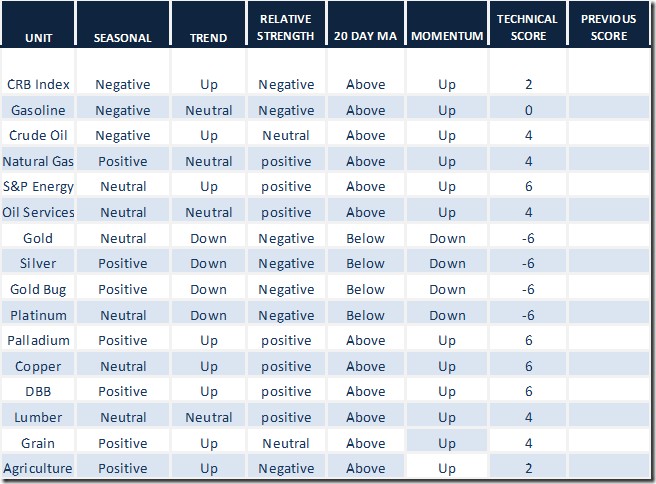 Green: Increase from previous day
Red: Decrease from previous day
Daily Seasonal/Technical Sector Trends for November 24th 2016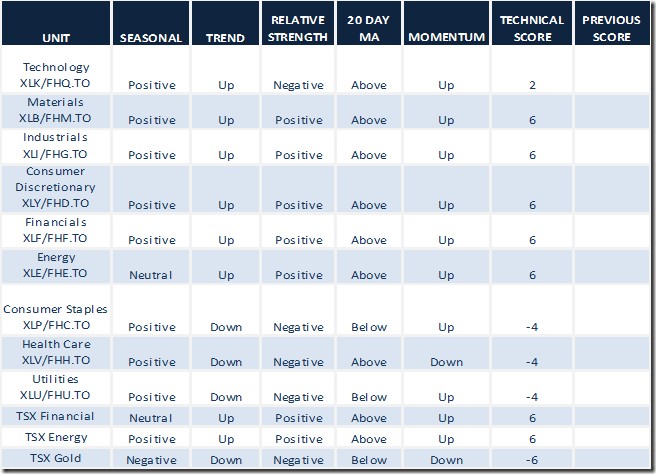 Green: Increase from previous day
Red: Decrease from previous day
Adrienne Toghraie's "Trader's Coach" Column
Trader's Log
When a trader keeps a log of all his actions and results during his trading day, he will discover identifiable patterns that he can use as a modeling study to improve his results.
Dan was a very fastidious trader who got the idea of keeping a log from one of his mentors. Several of his associates who observed his new regimen thought he was putting too much effort into writing down all of his thoughts, actions, and the results he got in his trading. They were not as critical of Dan, however, when they noticed that, over time, he was making a lot more money in his trading than previously.
What Dan discovered was that:
· During certain times of the day, he performed better
· With certain types of trades he made money
· In certain cycles of the month and year, his results would peak and valley because of events that were taking place in the market and his personal life
· In the afternoons, he would often give back the money that he made in the morning
· When he had a fight with his spouse, he did not trade as well during the day.
His log also gave him the information about where he would risk more money and about the trades he would avoid. Now, all of Dan's co-workers in his office are modeling him, keeping a log, and finding that their own results are more substantial.
What to Keep in a Log
1. The lessons you have learned, the rules you have adjusted, and the rules you find to be no longer useful.
2. How you feel mentally and physically during the day and how is it affecting your trading results.
3. Which criteria you are using for your trading decisions. Which decisions are more profitable and which are less profitable.
4. When you get the best results in trading – through the day, on a weekly basis, and on a monthly basis.
5. The normal activities that occur in your personal life that affect your trading. For example, when you exercise, when you sleep, when you eat certain foods, when you relate to certain people, etc.
6. The specific events that occur in your life that affect your trading. For example, visiting your mother-in-law, going on holidays, adding to your family, moving.
The information that emerges from this log will show patterns in how, when, and why you make money and lose it. Once you analyze your data, you will be able to trade when and how you trade the most profitably and avoid the times and triggers which bring you poor results. However, in order to keep this log, you will have to be disciplined. You cannot keep your log for part of the day and not the rest of the day. You will only get the results you want
Editor's Note: Tech Talk keeps a log on all equity and ETF investment suggestions offered in the Tech Talk blog and follows them up in an "Accountability" section in the blog when the suggestions no longer apply. All suggestions are published initially on StockTwits and followed up in Tech Talk the next day. All suggestions satisfy two requirements: they have an identified seasonal pattern and they have a technical pattern that supports the seasonal pattern (either short or long). Currently 55 suggestions are on the list. All currently are on the long side. Most, but not all, currently are profitable. Many are sector investments consisting of baskets of Canadian and U.S. stocks. Most are expected to remain long until at least early January. A few selections will reach the end of their period of seasonal strength as early as next week. However, technical parameters near the end of their period of seasonal strength will fine tune their suggested exit. Stay tuned for updates in the Accountability section.
TSX Momentum Barometer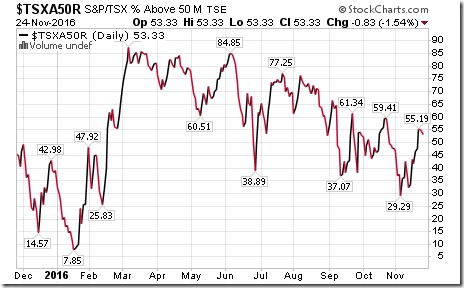 The Barometer slipped 0.83 to 53.33 yesterday. It remains slightly intermediate overbought and trending up.
Disclaimer: Seasonality and technical ratings offered in this report by www.timingthemarket.ca and www.equityclock.com are for information only. They should not be considered as advice to purchase or to sell mentioned securities. Data offered in this report is believed to be accurate, but is not guaranteed