Abercrombie and Fitch (ANF) fell 21% to a 17-year low after it ended talks of selling. Instead, Arthur Martinez the CEO stated, "after a comprehensive review of all relevant factors, with the assistance of our financial advisor, the A&F board of directors determined that the best path to enhance value for stockholders is the rigorous execution of our business plan," (nasdaq.com).
Last time we looked at ANF, we noted that if price can close above 13.00, it could become bullish. Instead, price held under 13, and has now fallen below 10.00 to close the 7/10 session at 9.59. If it falls to 6.25, it will be at its historic low.

Abercrombie and Fitch (ANF) Daily Chart: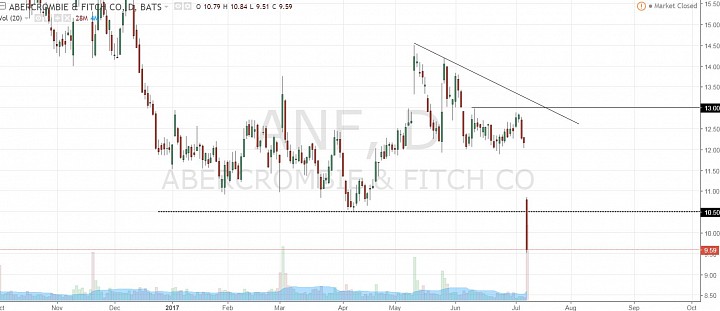 (click to enlarge)

I think ANF is at a low enough price to scoop up IF you believe it can remain a relevant brand. It has not shown success at rebranding itself and has fallen victim to both the amazon-effect and fast-fashion competition. Therefore, even if it becomes a bargain, its tough to see much upside.

I would consider scooping some if price falls into the 6.25-8 area (8 is also a critical support pivot from year 2000. However, I would not have much confidence to hold. Instead, we would really be looking for a dead-cat-bounce instead of a sustained uptrend.