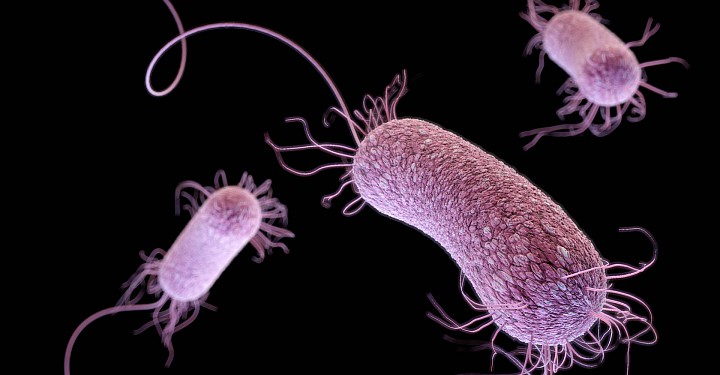 RICHMOND, Va. – Josiah Cooper-Pope, born 15 weeks premature, did fine in the neonatal intensive care unit for the first 10 days of his life.
Then, suddenly, his tiny body started to swell. Overnight, he grew so distended that his skin split.
His mother, Shala Bowser, said nurses at Chippenham Hospital in Richmond, Virginia, told her that Josiah had an infection and that she should prepare for the worst. On Sept. 2, 2010, she was allowed to hold him for the first and last time as he took his final breath. He was 17 days old.
What no one at the hospital told Bowser was that her newborn was the fourth baby in the neonatal unit to catch the same infection, methicillin-resistant Staphylococcus aureus, better-known as MRSA. It would sicken eight more, records show – nearly every baby in the unit – before the outbreak had run its course.
The shock of her son's death came back to her when, after being contacted by Reuters earlier this year about the outbreak, Bowser went to Virginia's Division of Vital Records to get a copy of Josiah's death certificate. The cause of death: "Sepsis due to (or as a consequence of): Prematurity." Sepsis is a complication of infection, but there was no mention of MRSA.
"My heart hurts," Bowser said, sobbing. "I saw what this did to him. And then they just threw a bunch of words on the death certificate."
According to their death certificates, Emma Grace Breaux died at age 3 from complications of the flu; Joshua Nahum died at age 27 from complications related to a skydiving accident; and Dan Greulich succumbed to cardiac arrhythmia at age 64 after a combined kidney and liver transplant.
In each case – and in others Reuters found – death resulted from a drug-resistant bacterial infection contracted while the patients were receiving hospital care, medical records show. Their death certificates omit any mention of the infections.
Fifteen years after the U.S. government declared antibiotic-resistant infections to be a grave threat to public health, a Reuters investigation has found that infection-related deaths are going uncounted, hindering the nation's ability to fight a scourge that exacts a significant human and financial toll.
Even when recorded, tens of thousands of deaths from drug-resistant infections – as well as many more infections that sicken but don't kill people – go uncounted because federal and state agencies are doing a poor job of tracking them. The Centers for Disease Control and Prevention (CDC), the go-to national public health monitor, and state health departments lack the political, legal and financial wherewithal to impose rigorous surveillance.
As a result, they miss people like Natalie Silva of El Paso, Texas, who contracted a MRSA (pronounced MER-suh) infection after giving birth. She died from infection-related complications nearly a year later, at age 23.
Silva's sisters fought a successful battle to get the hospital to cite MRSA on her death certificate. Still, her death went uncounted: The Texas health department doesn't track deaths like hers from antibiotic-resistant infections, and neither does the CDC.
As America learned in the battle against HIV/AIDS, beating back a dangerous infectious disease requires an accurate count that shows where and when infections and deaths are occurring and who is most at risk. Doing so allows public health agencies to quickly allocate money and manpower where they are needed. But the United States hasn't taken the basic steps needed to track drug-resistant infections.
"You need to know how many people are dying of a disease," said Ramanan Laxminarayan, director of the Center for Disease Dynamics, Economics & Policy, a Washington-based health policy research organization. "For better or worse, that's an indicator of how serious it is."
Drug-resistant infections are left off death certificates for several reasons. Doctors and other clinicians get little training in how to fill out the forms. Some don't want to wait the several days it can take for laboratory confirmation of an infection. And an infection's role in a patient's death may be obscured by other serious medical conditions.
There's also a powerful incentive not to mention a hospital-acquired infection: Counting deaths is tantamount to documenting your own failures. By acknowledging such infections, hospitals and medical professionals risk potentially costly legal liability, loss of insurance reimbursements and public-relations damage.
A mother's lament: 'They robbed me of my child'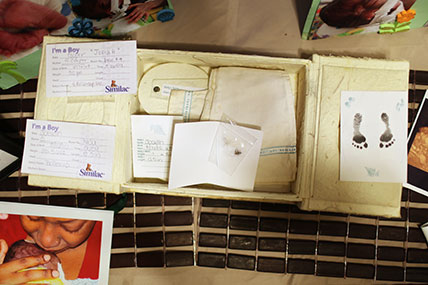 Doctors and other clinicians also may simply not understand the importance of recording the infections. Sandy Tarant, the doctor who signed Josiah Cooper-Pope's death certificate, told Reuters that he thought "it didn't matter" whether he cited a MRSA infection.
Legally, he's right. Most states don't require doctors to specify whether MRSA was a factor in a death. Washington and Illinois are exceptions.
State laws govern how death certificates are filled out. Most use a model law that mandates financial penalties for anyone who deliberately makes a false statement on the document, said Patricia Potrzebowski, director of the National Association for Public Health Statistics and Information Systems. The penalties are often small and rarely enforced, she said.
"AN IMPRESSIONIST PAINTING"
Not even the CDC has a good handle on the extent of the problem. The agency estimates that about 23,000 people die each year from 17 types of antibiotic-resistant infections and that an additional 15,000 die from Clostridium difficile, a pathogen linked to long-term antibiotic use.
The numbers are regularly cited in news reports and scholarly papers, but they are mostly guesswork. Reuters analyzed the agency's math and found that the estimates are based on few actual reported deaths from a drug-resistant infection.
The agency leaned heavily on small samplings of infections and deaths collected from no more than 10 states in a single year, 2011. Most didn't include populous areas such as Florida, Texas, New York City and Southern California.
From those small samples, the CDC then extrapolated most of its national estimates, introducing so much statistical uncertainty into the numbers as to render them useless for the purposes of fighting a persistent public health crisis.
Describing the estimates to Reuters, even CDC officials used words like "jerry-rig," "ballpark figure" and "a searchlight in the dark attempt."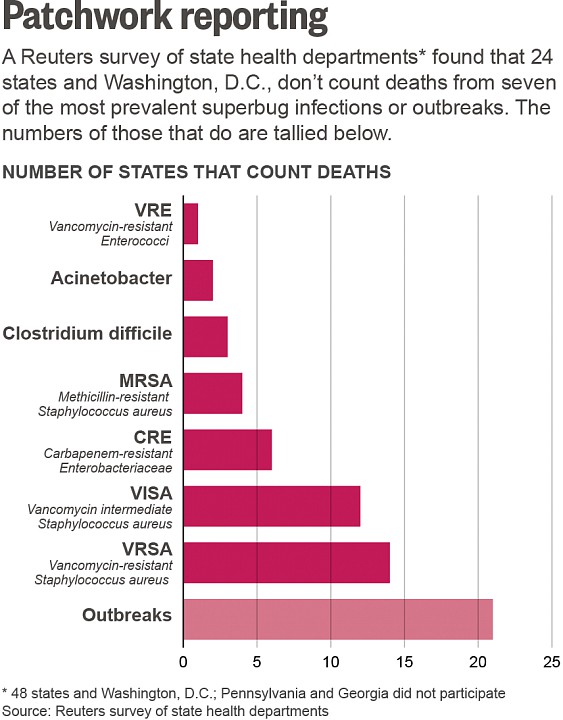 Michael Craig, the CDC's senior adviser for antibiotic resistance coordination and strategy, said the agency, pressured by Congress and the media to produce "the big number," settled on "an impressionist painting rather than something that is much more technical."
In a statement emailed to Reuters, CDC officials said they released the 2013 estimates report "despite its limitations because of our profound concern about the seriousness of the threat." The agency said it is working on improving its estimates.
The numbers of uncounted deaths from drug-resistant infections "speak to what can happen when we don't allocate the necessary resources to bolster … our public health safety network," said Senator Sherrod Brown. "When we see discrepancies in reporting, are unable to finance a workforce to monitor infections, and can't even soundly estimate the number of Americans that die from [antibiotic-resistant infections] each year, we know we have a problem."
The Ohio Democrat recently introduced a bill that would require the CDC to collect more and better data on superbug infections and death rates.
In the absence of a unified national surveillance system, the onus of monitoring drug-resistant infections and related deaths falls on the states. A Reuters survey of the health departments of all 50 states and the District of Columbia found wide variations in how they track seven leading "superbug" infections – if they do so at all.
Only 17 states require notification of C. difficile infections, for example, while just 26 states and Washington, D.C., do the same for MRSA. Fewer than half require notification of infections by carbapenem-resistant Enterobacteriaceae (CRE), a family of pathogens that the CDC has deemed an "urgent threat." CRE gained notoriety when more than 200 people were sickened through contaminated medical scopes in hospitals from 2012 to 2015.
Twenty-four states and the District of Columbia – an area comprising 3 of every 5 Americans – said they do not regularly track deaths due to antibiotic-resistant infections. In contrast, all 50 states require reporting of AIDS-related deaths. Deaths from hepatitis C and tuberculosis are also closely tracked.
States that said they do track deaths generally do so for only a few types of drug-resistant infections and not consistently. In the survey, they reported a combined total of about 3,300 deaths from 2003 to 2014.
That's a tiny fraction of the actual toll: A Reuters analysis of death certificates found that nationwide...
More