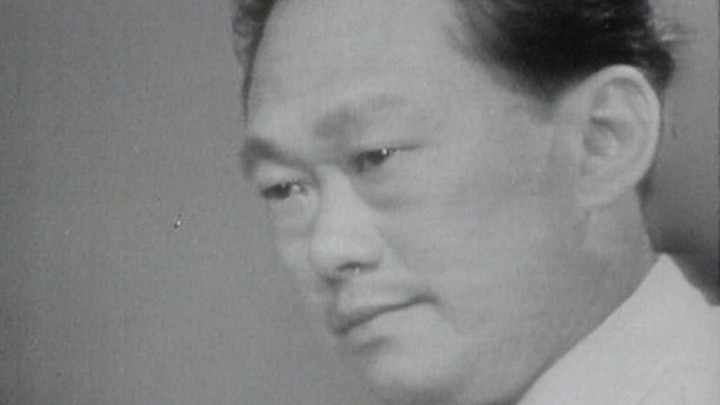 Reuters
Lee Kuan Yew in a video still from August 7, 1965.


Lee Kuan Yew, who dominated Singapore politics for more than half a century and transformed the former British outpost into a global trade and finance powerhouse, setting a template for emerging markets around the world, died Monday. He was 91 years old.
Mr. Lee had been battling "severe pneumonia," a condition the government disclosed in late February after he was admitted to Singapore General Hospital on Feb. 5. Mr. Lee had been in intensive care and was put on mechanical ventilation.
Last week, the government, now led by Mr. Lee's son, Prime Minister Lee Hsien Loong, said the elder Mr. Lee's condition had worsened due to an infection. On Sunday, the government said that his condition had weakened even further.
Mr. Lee's core principles — including a focus on clean and efficient government, business-friendly economic policies, and social order — helped attract massive investment and many of the world's biggest companies to Singapore after he became prime minister in 1959, catapulting living standards to First World status from Third World levels in hardly more than a generation.
Along the way Singapore, now one of the world's richest nations, drew criticism from rights groups that said it attained its developed-world living standards without adopting full Western-style democracy or some of the freedoms taken for granted in Western societies.
Mr. Lee argued that Western-style democracy just wasn't suitable for all nations, and that young countries needed stability and economic development before they could afford the luxuries of democracy and personal liberty in a Western mold.
Writer T.J.S. George, in a biography of Mr. Lee, saw it another way: For Mr. Lee, he wrote, "means never mattered so long as the ends he desired were reached. He ran Singapore like a tightly managed private corporation, paying what he considered good dividends to the shareholders."
An expanded version of this report appeared on WSJ.com.