As Italy's Chrysler (yes, it belongs to Fiat now) resumes trading on the NYSE five years after it filed for bankruptcy, in a completely illiquid tape, on the day after the biggest weekly market rout in years, trading briefly above its $9 opening price before sliding just under...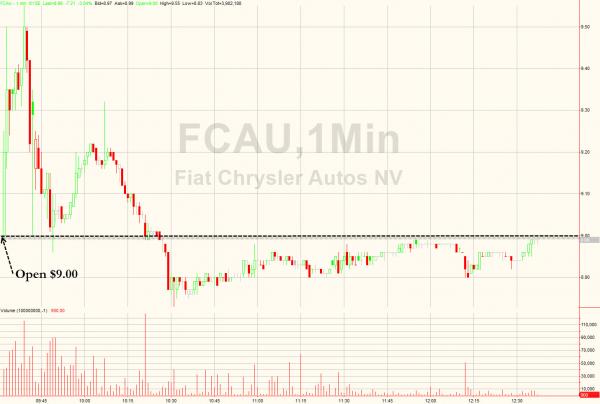 ... the real automotive news of the day comes neither from NY, nor Mahwah, NJ where the NYSE is located, nor from Italy, but from China - the place where all automakers have thrown their Hail Mary passes in the past year.
Alas the news is anything but good.
According to Bloomberg, China's vehicle sales grew at the slowest pace in 19 months in September as demand for trucks and buses slumped with the weaker economy. Total vehicle sales, which include passenger and commercial vehicles, rose 2.5 percent from a year earlier to 1.98 million units, the China Association of Automobile Manufacturers said today. That was the slowest pace since February 2013.
Demand is slowing in the world's largest auto market as the economy slows with declines in gauges for services and industrial production. The state-backed auto association cut its forecast for full-year vehicle sales in July as the economy showed little signs of improvement and more cities consider purchase restrictions.

 

"The overall economic climate is a bit chilly so the individual sector is also impacted," Dong Yang, the association's secretary general, said at a briefing in Beijing today. "Even though the growth in August and September seems a bit slower, it is still in the normal range."

 

Passenger-car sales in China rose 6.4 percent last month to 1.7 million units. Sales of commercial vehicles such as trucks and buses fell 16 percent, according to association data.

 

In July, the group lowered its projection for China vehicle sales growth to 8.3 percent, from a 10 percent prediction in January. Economists forecast China's expansion this year will moderate to 7.3 percent, the slowest since 1990, and to 7 percent in 2015.
So how do US makers spin the tumble in demand? "Among foreign automakers, General Motors Co. which counts China as its largest market, said earlier this month that its sales in the country rose 15 percent in September. Toyota Motor Corp., the world's largest carmaker, increased sales by 26 percent to 91,100 vehicles, while Nissan Motor Co. and Honda Motor Co. deliveries slumped 20 percent and 23 percent respectively during the month."
In other words, the wave of negative earnings preannouncement from the car makets is imminent.