The AUD/NZD has been rallying since holding 0.9322 as support at the end of May. 
The daily chart shows the rally accelerating this week.

AUD/NZD Daily Chart 7/13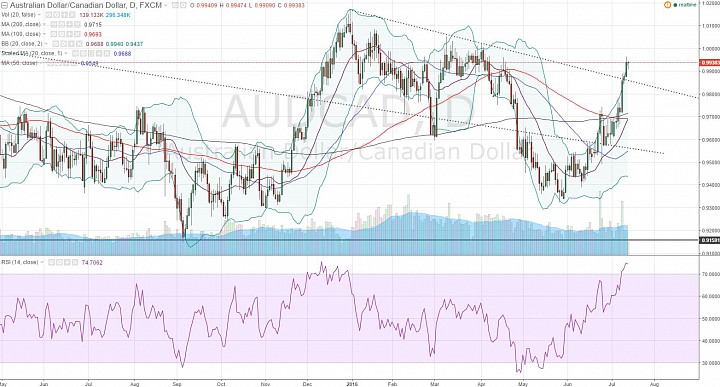 (click to enlarge)

Long-term mode is sideways:
The AUD/NZD is bullish in the medium-term since June. 
The long-term mode, since June 2013, has been a sideways market as we can see in the weekly chart.

Bullish trend in a choppy market:
We are basically looking at a bullish trend within a sideways choppy market. 
In this scenario, we should look for a pullback.

Buy-on-a-dip consideration:
I would look for a pullback to 0.97.
To me that limits the risk to a little over 100 pips because I think a dip below 0.96 should not happen in a bullish scenario. 
Also, look for the RSI to approach 40. It should not dip below 40. 
The target could be around 1.10. This provides a 300-pip potential reward to something like a 125-pip risk. 

Bearish Scenario:
I think a break below 0.95 will create a clear case for a bearish outlook towards 0.9350 and eventually the 0.9160 low.