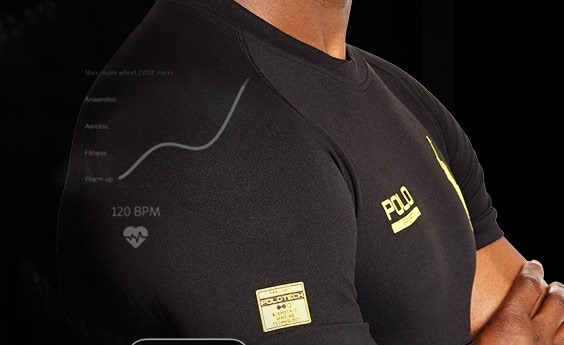 The Ralph Lauren 'tech polo' is a high performance, fashion-forward smart shirt that delivers active biometrics through a worn garment. It was produced along side the Canadian company OMsignal whose team of neuroscience, sports medicine and engineering experts have together created a top which itself is the sensor.
Sensors are knitted into the core of the shirt and include an accelerometer, gyroscope, and heartbeat monitor. The information is collected by a data module and fed into an iOS app that monitors stress levels, calories burned, respiration, heartbeat, and energy output. An athlete can adjust training by breathing more deeply, increasing exertion to hit a target heart rate, or focusing on reducing stress in competitive situations.
Several US open ball boys are supporting the wearable technology during select matches at the Billie Jean national tennis center. Some of the ball boys (women's shirts are still under development) at the US Open will be sporting the shirts. Look for the ball collectors wearing the tight black shirts with a yellow polo horse.
OMsignal is currently offering its version of the shirt and black-box data collector for preorder at $199 (about £120, AU$215). The OMsignal-branded shirts are expected to be available by the end of the year for both men and women, though they won't be emblazoned with the screaming yellow Polo logo.