In our overnight market summary first thing morning, in which we noted that the Chinese bubble (shown most recently here) has finally spilled over into Hong Kong, we were dumbfounded by the move in the Hang Seng overnight, where as we reported previously, overnight there was "a blistering rally which rose nearly 4% on immense volume which at 250 billion Hong Kong dollars ($32 billion) was three times the average daily volume over the past year and nearly 20% more than the previous record volume day in October 2007, at the height of the pre-financial crisis bubble."
As it turns out that was nothing.
This is what has happened since then, in just the past hour, as the elementary school-educated Chinese momentum trading hoardes have descended.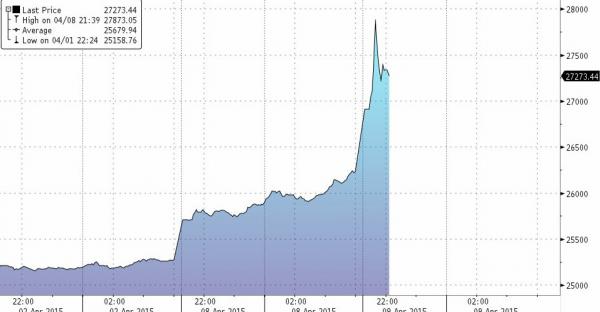 No, that chart is fine, and nothing is wrong with your eyes: that was, indeed, until a few minutes ago, a 10% move in just the past two days!
This is how it looks longer term: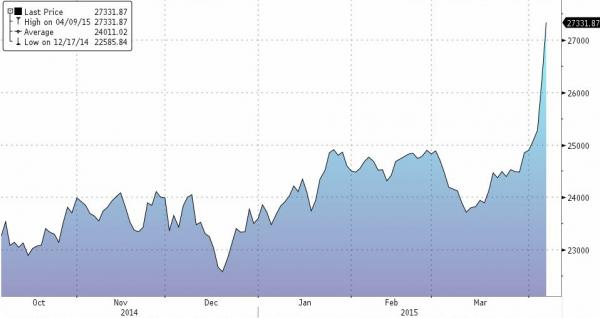 Some details from Bloomberg:
Hang Seng Index's 14-day relative-strength index rises to 87.2, highest since October 1993. RSI >70 signals to some traders shares are due to decline
Turnover on Hang Seng Index ~400% higher than 30-day avg for this time of day
Hang Seng Volatility Index surges 56%, set for biggest increase on record and heading for highest level since June 2012; two-day jump is 138%
Hang Seng China Enterprises RSI climbs to 85.2, Shanghai Composite at 84
31 out of 40 Hang Seng China members had RSI >70 yday, most since Oct. 2007
20 Hang Seng China stocks at new 52-week highs yday, also most since Oct. 2007
Or, said far simpler, a stock bubble of epic proportions.
So sit back and enjoy, because at this point there are just two options: it continues rising parabolically, or it crashes. And since the Chinese stock market is now linked to Hong Kong, any crash here will first lead to a shake down in China, and - since global central bank liquidity is immediately fungible - a crash in China may well be the catalyst that take out the unprecedented global central bank liquidity bubble which has been reflating in virtually a straight line since 2008.