This is one of our favorite funds - Eric Khrom just kills it again and again while maintaining a high level of cash - too early to proclaim the next Seth Klarman? Who knows - but watch this guy.
Khrom Capital letter to investors for the first half ended June 30, 2015.
Dear Limited Partners:
In the first half of 2015, our Partnership returned 18.2% net of fees and expenses. On average, we held 10% of our assets in cash throughout this period. For the past five years, the fund has had an average cash balance of 26%.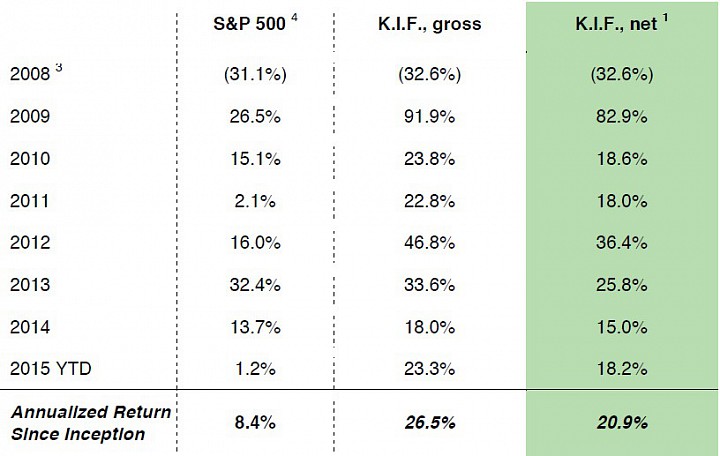 Our returns in the first half of this year were generated about equally among six investments (with an average market capitalization greater than one billion dollars, hopefully answering the question of whether our strategy is scalable). Our investments consist of businesses that we underwrote to hold forever. This does not imply that we will never sell them. It means that our investment theses do not depend on a sale.
We assume a buyer for our shares will never come along. That way, we are forced to evaluate the total earnings a business will produce over its lifetime, as opposed to speculating on what others will pay us for it in a given year.
Of course, this implies that our Partnership's reported return so far this year does not matter much. The stock prices-what others are willing to pay for the businesses we own-will continue to fluctuate (sometimes wildly) so long as we own them. We must-and so should you as our Limited Partners-ignore thoughts on where a company's share price may go. Our focus must remain on determining the earnings we think a business can produce over its lifespan. Then the only remaining actions are to buy shares...
More