Houston-based MRC Global Inc. MRC continues to reinforce its organic growth trajectory on the back of multiple contract wins and deal renewal. The company recently secured two new contracts from Statoil ASA STO, one from Deutsche Erdoel AG, as well as extended its pact with NiSource, Inc NI.
MRC Global is also well poised to strengthen its business on the back of diligent acquisitions and sound restructuring moves. We notice that over the last one year, shares of this stock yielded a return of 22.51%, outperforming 15.67% growth recorded by the Zacks categorized Steel - Pipe and Tube industry.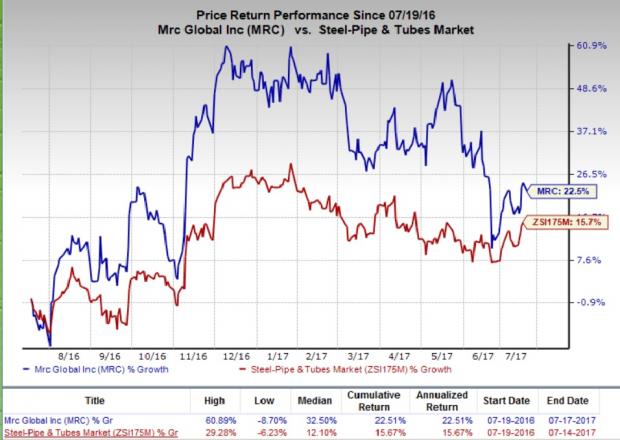 Notably, the attractiveness of this Zacks Rank #3 (Hold) stock as a current investment choice is further accentuated by its favorable Value Growth Momentum Style Score 'A'. You can see the complete list of today's Zacks #1 Rank (Strong Buy) stocks here.
However, dismal pricing conditions prevailing in the oil and gas market have been hurting the energy business arms of companies like MRC Global and Actuant Corporation ATU.
Inside the Headlines
MRC Global's subsidiary in Norway – MRC Global Norway AS – will provide specialty and high manifolds, alloy valves, fittings, enclosures, tubing, tube clamps, and other related products for Statoil's Johan Castberg project located in the Barents Sea. On the other hand, the company's subsidiary in Sweden, MRC Global (Sweden) AB will provide globe, gate and check valves to Statoil Refining Denmark A/S (Statoil's business arm in Denmark).
Moreover, MRC Global will supply instrument fittings, tubing and manifold products for Deutsche Erdoel AG's Dvalin project in the Norwegian Continental Shelf. This project is anticipated to be accomplished by 2020, after which it will likely commence production.
MRC Global has been a major supplier of NiSource since 2004. The company announced that it has extended its deal with NiSource and will continue to provide premium gas distribution products (like pipe, valve and fitting products) and integrated supply services to the latter for an undisclosed time period.
5 Trades Could Profit ""Big-League"" from Trump Policies
If the stocks above spark your interest, wait until you look into companies primed to make substantial gains from Washington's changing course.
Today Zacks reveals 5 tickers that could benefit from new trends like streamlined drug approvals, tariffs, lower taxes, higher interest rates, and spending surges in defense and infrastructure. See these buy recommendations now >>
Want the latest recommendations from Zacks Investment Research? Today, you can download 7 Best Stocks for the Next 30 Days.
Click to get this free report
NiSource, Inc (NI): Free Stock Analysis Report
Actuant Corporation (ATU): Free Stock Analysis Report
Statoil ASA (STO): Free Stock Analysis Report
MRC Global Inc. (MRC): Free Stock Analysis Report
To read this article on Zacks.com click here.
Zacks Investment Research