ImmunoGen, Inc. IMGN reported a loss of 37 cents per share in the third quarter of 2017, wider than the Zacks Consensus Estimate of a loss of 28 cents. The company reported the year-ago loss of 46 cents (excluding restructuring charges). It is important to note that effective from Jan 1, 2017, ImmunoGen has transitioned to a fiscal year ending Dec 31.
Shares of ImmunoGen have gained more than 6% on Nov 3, 2017 as the company raised its cash guidance for the full year. The stock has significantly outperformed the industry year to date. While the company's shares have soared 176%, the industry has increased 1.5%.
Since ImmunoGen has no approved product in its portfolio yet, the company earns revenues through royalties, license and milestone payments as well as research and development (R&D) support fees paid by its partners.
The company reported revenues of $8.5 million, which significantly missed the Zacks Consensus Estimate of $29 million in the quarter. However, the top line increased 10.4% compared with the year-ago figure. This upside was mainly driven by substantially higher clinical material revenues of $1.2 million compared with the $0.05 million a year ago.
Research & development (R&D) expenses decreased 3.6% from the year-ago level to $31.7 million. This downside was primarily due to workforce reduction and lower third-party costs. Selling, general and administrative (SG&A) expenses declined 16% to $7.9 million due to decreased personnel expenses in the third quarter of 2017.
ImmunoGen's cash and cash equivalents at the end of Sep 2017 were $194.9 million compared with $160 million as of Dec 2016. The company expects to use its current cash and the estimated cash amount to fund operations in the fourth quarter of 2019.
Pipeline Update
ImmunoGen is progressing well with its pipeline product, mirvetuximab soravtansine. The candidate is currently in a phase III study (FORWARD I) as a single-agent therapy for treating patients with platinum-resistant ovarian cancer, whose tumors express high or medium levels of FR alpha.
Notably, combination regimens with mirvetuximab soravtansine in ovarian cancer are in the phase Ib/II of FORWARD II study. The trial consists of cohorts assessing mirvetuximab soravtansine in combination with Roche's RHHBY Avastin and Merck's MRK Keytruda. ImmunoGen reported initial data from the FORWARD II study in May, demonstrating the candidate to have potential to complement currently available therapies for the indication.
Apart from mirvetuximab soravtansine, ImmunoGen is working to develop a couple of other candidates, including IMGN779 and IMGN632. Notably, IMGN779 is being evaluated in a phase I study for treating acute myeloid leukemia ("AML") with data expected later this year. On the other hand, the company plans to move IMGN632 into clinical development before the year-end to treat hematological malignancies including AML.
2017 Outlook
The company maintained its revenue guidance in the range of $115-$120 million for 2017. However, it has significantly raised its cash guidance for 2017 due to execution of its agreement with Jazz in the third quarter for development and commercialization of two early stage, antibody-drug conjugates (ADC) — IMGN779 and IMGN632. The company now expects cash and cash equivalents in the range of $260-$265 million compared with $90-$95 million, expected previously.
Operating expenses are now expected in the range of $170-$175 million compared with $175-$180 million, expected previously.
ImmunoGen, Inc. Price, Consensus and EPS Surprise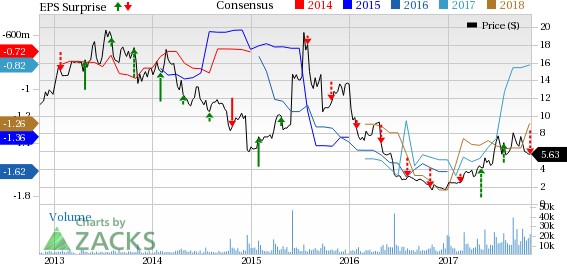 ImmunoGen, Inc. Price, Consensus and EPS Surprise | ImmunoGen, Inc. Quote
Zacks Rank & Other Key Pick
ImmunoGen currently carries a Zacks Rank #2 (Buy). Another top-ranked stock in the health care sector is Ligand Pharmaceuticals Inc. LGND, sporting a Zacks Rank #1 (Strong Buy). You can see the complete list of today's Zacks #1 Rank stocks here.
Ligand's earnings per share estimates have moved up from $3.68 to $3.70 for 2018 over the last 30 days. The company delivered positive earnings surprises in two of the trailing four quarters with an average beat of 6.19%. Share price of the company has surged 44.1% year to date.
Wall Street's Next Amazon
Zacks EVP Kevin Matras believes this familiar stock has only just begun its climb to become one of the greatest investments of all time. It's a once-in-a-generation opportunity to invest in pure genius.
Want the latest recommendations from Zacks Investment Research? Today, you can download 7 Best Stocks for the Next 30 Days.
Click to get this free report
Roche Holding AG (RHHBY): Free Stock Analysis Report
Merck & Company, Inc. (MRK): Free Stock Analysis Report
Ligand Pharmaceuticals Incorporated (LGND): Free Stock Analysis Report
ImmunoGen, Inc. (IMGN): Free Stock Analysis Report
To read this article on Zacks.com click here.
Zacks Investment Research