Looking at the daily chart, we see that the Aussie has been in a consistent downtrend since mid-October. I analyzed the AUD/USD move recently (
11/26 - How Much Lower Can Aussie Go?
)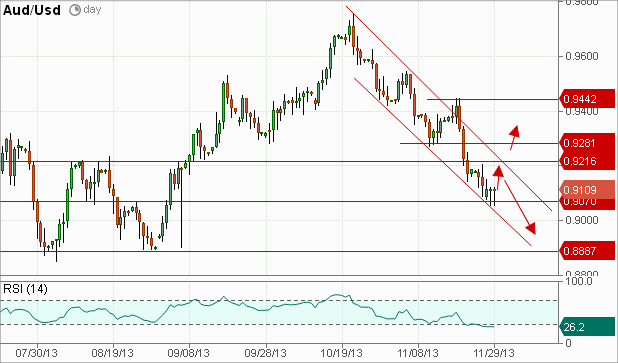 However, has this selling gone far enough that its time for a retrace? There are two signs to point to.
The RSI has moved below the 30 level, and while this can be taken as a sign that the bears are dominating, it is usually looked at as an oversold level.
The pair is testing an important pivot at 0.9070 and has so far used it as support. This level goes back to August when it was first resistance and then broken, and is the midway point of the range from back in August.
Therefore, we could see an initial bounce, but one that doesn't garner too much momentum, something like a move to 0.92, before it continues its downtrend.

However, a more bullish move would see the pair break through that 0.92 handle, and either test the channel resistance level (I have it drawn cutting through some candles so how you place it may be subjective), but we could also use fib levels to give us some upside targets.

So, with the candles acting the way they have recently around a key pivot, and with RSI oversold, I think the Aussie may finally find a bit of relief. Let's see what the rest of today and the start of next week holds.