ANSYS Inc. ANSS reported second-quarter 2017 non-GAAP earnings (including stock-based compensation) of 89 cents, which beat the Zacks Consensus Estimate by a nickel.

Non-GAAP earnings (excluding stock-based compensation) were 99 cents per share, up 6.5% year over year. The figure was better than management's guided range of 88–93 cents per share.

Revenues increased 7.4% (13% at constant currency) from the year-ago quarter to $264.4 million, surpassing the Zacks Consensus Estimate of $259 million and management's guided range of $254–$263 million. Unfavorable foreign exchange negatively impacted revenues by $2.1 million.

The year-over-year growth was driven by 6.2% increase in software license revenues and 8.6% growth in maintenance and service revenues.

As of Jun 30, deferred revenue and backlog increased 25% year over year to $655.8 million.

ANSYS's stock has gained 37.8% year to date, substantially outperforming the 22.2% rally of the industry it belongs to. The outperformance can be attributed to strong top-line growth and stringent cost control that have positively impacted the bottom line in the first half of 2017. Moreover, the raised guidance will provide further momentum to the share price in the rest of 2017.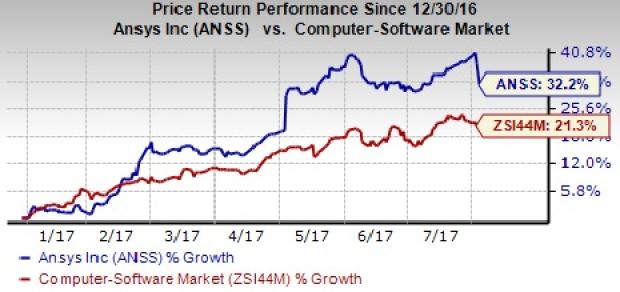 Segment Revenue Details

At constant currency, lease license revenues grew 12.5% to $92.7 million, while maintenance revenues increased 9.8% to $107.6 million in the reported quarter. Perpetual license revenues remained almost flat at $57.6 million in the quarter. Service revenues increased 6% to $6.4 million.

Direct and indirect businesses contributed 76% and 24%, respectively, to the quarterly revenues. During the quarter, the company had 28 customers with orders in excess of $1 million, including four customers with orders in excess of $5 million and one customer with orders over $10 million.

Recurring revenue base was 76%. Bookings were almost flat at $261.3 million. On a year-to-date basis, bookings increased 9.1% to $525.2 million.

Region wise, North America, Europe and Asia-Pacific revenues increased 13.5%, 3% and 7.1%, respectively, at constant currency.

North America had 14 customers with orders above $1 million, including four customers with orders in excess of $5 million and one over $10 million. The strength in North America reflected strong demand for ANSYS's solutions in the aerospace & defense, electronics/semiconductors and automotive industries.

In Europe, France reported 15% constant currency growth, which was partially offset by weak performance in both Germany and the UK. ANSYS is focused on rebuilding its sales organization in the region, which it believes will continue throughout the second-half of 2017.

Asia-Pacific revenues benefited from strong performance in China and Taiwan.

Operating Details

Non-GAAP gross margin expanded 20 basis points (bps) from the year-ago quarter to 90.2%.

Operating expenses (excluding amortization), as a percentage of revenues, increased 240 bps from the year-ago quarter. The increase was driven by higher selling, general & administrative (up 310 bps) expenses and was partially offset by research & development expense (up 70 bps).

Consequently, non-GAAP operating margin expanded 140 bps on a year-over-year basis to 48.3% in the reported quarter.

Balance Sheet & Cash Flow

ANSYS exited the quarter with cash and short-term investments of $863.5 million (of which 67% was held in the U.S.), down from $866.6 million in the previous quarter. The company generated cash from operations of $112.2 million as compared with $125.9 million in the quarter.

Further, ANSYS repurchased 1 million shares in the reported quarter. As of Jun 30, 2017, the company had 3.5 million shares were remaining in the authorized share repurchase program.

Guidance

For third-quarter 2017, ANSYS expects non-GAAP earnings in the range of 94–98 cents per share. The company expects to incur additional charges of $2 million ($1.3 million, net of tax), primarily in the quarter, related to additional realignment charges.

Net revenue is anticipated in the range of $258–$267 million. The company expects gross margin of 90% and operating margin between 47% and 48% for the third quarter.

For 2017, ANSYS now anticipates revenues of $1.053–$1.073 billion (up from $1.030–$1.058 billion) and earnings in the range of $3.77–$3.89 (up from $3.68–$3.85) per share.

Gross margin is now anticipated 90% and operating margin between 46% and 47% for the full year.

ANSYS currently plans on total capital expenditure in the range of $15–$20 million for 2017.

Zacks Rank & Key Picks

ANSYS carries a Zacks Rank #4 (Sell).

Red Hat RHT, Verint VRNT and Symantec SYMC are better-ranked stocks worth looking in the sector. All the three stocks sport a Zacks Rank #1 (Strong Buy). You can see the complete list of today's Zacks #1 Rank stocks here.

Long-term earnings growth rate for Red Hat, Verint and Symantec are pegged at 14.4%, 8.5% and 10.3%, respectively.
More Stock News: Tech Opportunity Worth $386 Billion in 2017
From driverless cars to artificial intelligence, we've seen an unsurpassed growth of high-tech products in recent months. Yesterday's science-fiction is becoming today's reality. Despite all the innovation, there is a single component no tech company can survive without. Demand for this critical device will reach $387 billion this year alone, and it's likely to grow even faster in the future.
Zacks has released a brand-new Special Report to help you take advantage of this exciting investment opportunity. Most importantly, it reveals 4 stocks with massive profit potential.
Want the latest recommendations from Zacks Investment Research? Today, you can download 7 Best Stocks for the Next 30 Days.
Click to get this free report
Red Hat, Inc. (RHT): Free Stock Analysis Report
Symantec Corporation (SYMC): Free Stock Analysis Report
ANSYS, Inc. (ANSS): Free Stock Analysis Report
Verint Systems Inc. (VRNT): Free Stock Analysis Report
To read this article on Zacks.com click here.
Zacks Investment Research