Flat enough for you? 
As you can see, yesterday's prediction to short the S&P at 2,180 is, so far, up $250 per contract, so you're welcome for that but it was up $500 per contract at 2,170 in the afternoon and shame on you if you didn't take that single-day money and run.  Remember, I can only tell you what the market is going to do and how to make money trading it – the rest is up to you!  
This morning, for example, we sent out an Alert to our Members at 6:50 (
https://twitter.com/philstockworld/status/770936849481211905
) with short and long ideas to start the day off.  Our shorting lines on the indexes are the same as they were yesterday and we still have a chance to short my favorite index, so take a look if you're interested. 
It took 6 months but Shell (RDS.A) finally agrees with my Trade of the Year idea on Natural Gas (UNG) (/NG Futures), though a bit late as it's already up 40% since my call.  Shell expects LNG consumption to rise 5-7% per year and we should be right on track for our predictions through Jan, 2018.  
We announced our Trade of the Year idea on Feb 11th on Money Talk and, as above, I was subsequently interviewed about it in various places, including a Forbes interview, so it wasn't a secret and our trade was:
Sell 10 UNG 2018 $5 puts for $1 ($1,000) 

Buy 20 UNG 2018 $5 calls for $2.10 ($4,200) 

Sell 20 UNG 2018 $9 calls for $0.95 ($1,900)

That puts you into the $8,000 spread for a net of $1,300 in cash, so the potential upside is $8,700.  Your obligation, should UNG be below $5 (now $5.90 with Nat gas at $1.62) would be to own 1,000 shares of the ETF for $5,000 PLUS the $1,300 you put in (presumably lost if you don't pull the plug early) so net $6.30 is more than the current price, so this is a very aggressive trade.  The margin on 10 shorts is net $517.49 of ordinary margin so it's a very efficient trade to have in your portfolio with a potential for a better than 4x return on cash+margin.  

I know UNG isn't as sexy as our usual trade of the year picks but there's nothing unsexy about 200% annualized returns, is there?  That's why I've been banging the table on this one.  Once people catch on to the fact that US exports of natural gas have nowhere to go but up – it's not likely we'll see these prices again. 
As of yesterday's close, the short puts were down to 0.30 ($300) and the bull call spread was $2.45 ($4,900) for net $4,600, which is up $3,300 on cash (250%) and still a good trade since the goal is an $8,700 total profit so $5,400 can still be gained, though that seems lame compared to what our Members are making - but look what you saved by not subscribing to the PSW Report for $3/day ($540 for 6 months)!  
We have a more aggressive version of that trade in our Options Opportunity Portfolio, which we share over at Seeking Alpha and, as with many of our PSW trade ideas – our scraps are better than the best trades you get at other services:

We took a net $6,920 credit to initiate this trade and our upside potential on 20 contracts at $10 will be another $10,000 for a total gain (if it works out) of $16,920 and the short puts tied up $5,000 in margin so a very nice 338% return on margin if we hit our goal, which is a good boost to this $100,000 portfolio we began last August 8th and is already up to $187,547 (up 87.5%) at the end of it's first year. 
The current net of the trade is still a $748 credit and the spread still pays $10,000 at $10 so it's still playable as well for very nice 16-month gains.  Pretty good for our leftovers, right?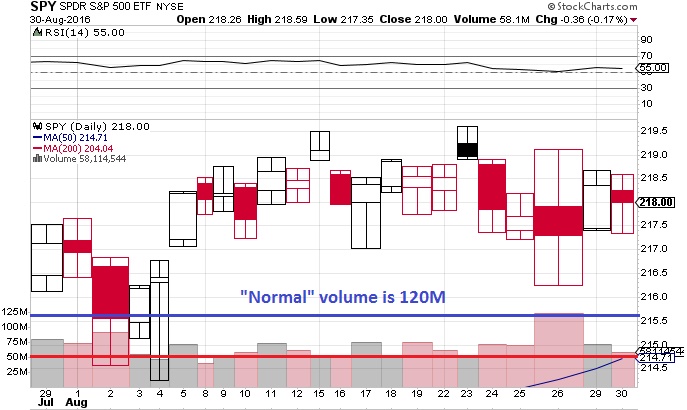 Meanwhile, we're waiting for August to end as this ridiculous, fake trading is getting sickening but we'll have to wait for the big boys to come back from the Hamptons next week before we see any real action.  
Yesterday's SPY volume was just 54.7M and I'd say that's like a half-day trading but, recently, that's as good as it gets.  Volume is so low that Bats Global Markets (BATS), who make exchange-traded products, have had to roll out "incentives" to drive volume to their products so don't be surprised if your broker calls you with some hot ETF tips next week – there's a fat bonus in it for him!  
So nothing that happens today is real and by tomorrow, we're already in vacation mode with Monday being Labor Day, one of only 9 days all year the market is closed and only Thanksgiving (11/24) and the Monday after Christmas (12/26) remain on the holiday calendar so you can damned well bet no one will be hanging around on Wall Street on Friday, despite the Non-Farm Payroll Report at 8:30 am.  
Since it's a holiday, I will invite you to attend a FREE session of our Live Weekly Webinar today at 1pm (EST), where we'll discuss Futures trading, hedging and the macro picture.   
 By the way, read this:  Deutsche Bank Calculates How Much Of The S&P's Value Is Due To Central Banks and this: S&P remains vulnerable, odds of crash are rising – UBS
Be careful out there!  
Provided courtesy of Phil's Stock World.
Would you like to read up-to-date articles on the day they are posted? Click here to become a part of our growing community and learn how to stop gambling with your investments. We will teach you to BE THE HOUSE - Not the Gambler!