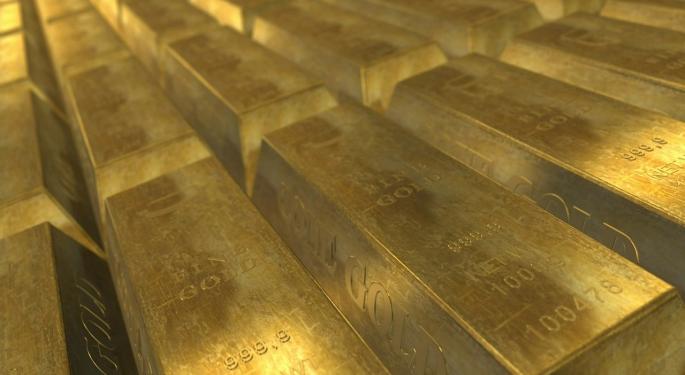 Despite a Friday bump in the road, the S&P 500 is still within a stone's throw of its all-time high and is now trading roughly 40 percent above its pre-Financial Crisis high. Yet despite the stock market being swept up in one of the most impressive bull markets in history since early 2009, it has still underperformed a surprising alternative investment in the past decade.
In the past 10 years, the SPDR S&P 500 ETF Trust SPY 1.22% is up an impressive 66 percent. However, in that same time, the SPDR Gold Trust (ETF) GLD 0.31% is up 109.6 percent.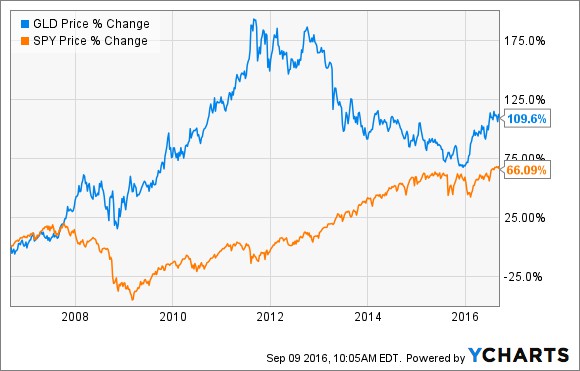 This outperformance by gold is somewhat surprising considering that gold is often thought of as a flight to safety trade when the stock market is weak. However, while it's true that gold does tend to perform well during times of stock market uncertainty, a long-term look at the SPY and the GLD highlights another important point about gold: it can still perform well even when the stock market is rising.
Related Link: 4 Reasons Morgan Stanley Thinks The S&P 500 Is Going To 2,300
Gold prices went on quite a run during the early stages of the bull market following the financial crisis when interest rates were cut to near zero and fears about the long-term impact of QE were rampant. However, even after gold's abysmal performance from 2012-2015, it has still managed to outperform stocks since September 2006.
With interest rates around the world still near or below zero, stock prices in the U.S. near all-time highs and rising global debt already at troubling levels, gold's long-term run may be far from over.
© 2016 Benzinga.com. Benzinga does not provide investment advice. All rights reserved.
Source