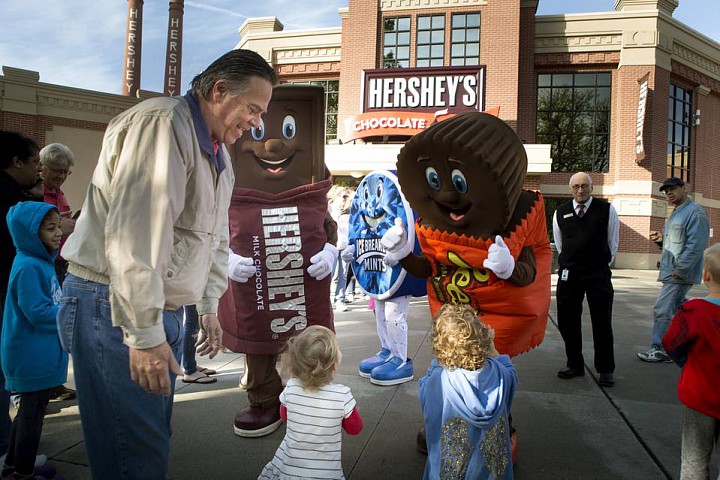 HERSHEY, Pa.—This town runs on chocolate.
From the roller coasters at Hershey Park to the butterfly conservatory at Hershey Gardens, Hershey, Pa., was literally built on the generosity of its founder, the iconic chocolatier Milton S. Hershey.
Seven decades after his death at the age of 88, the maker of Hershey's Kisses and Reese's Peanut Butter Cups still employs 4,500 people in a close-knit community surrounded by farmland. The related entertainment company draws 8,000 more full- and part-time workers into the town of 14,200 people.
No wonder, then, that Hershey residents fret the tap might run dry if Hershey Co. is sold or merges with a suitor such as Mondelez International Inc., the Oreo cookie maker that offered on June 30 to buy Hershey for $23 billion. Hershey's board rejected the bid.
"Who knows what happens to all that if the company is sold? That's what worries people," said Ken Rawley, who grew up in Hershey, where his father was a sales and marketing executive at the company. Mr. Rawley has since moved to New York and works for a boat company.
Hershey is a holdout from a bygone American era, when some 2,000 towns sprang up to serve one particular coal mine, textile factory or slaughterhouse. Many have faded as factories moved overseas and technological advancements led to job cuts.
The coal-mining town of Lynch. Ky., built by U.S. Steel in 1917, saw its population start to plummet in the 1950s from a peak of 10,000 as the industry mechanized. As of the 2010 U.S. census, there were 747 people...
More