The world's leading research and advisory company – Gartner Inc. IT – recently raised its forecast for Worldwide IT spending for 2017, giving technology companies a reason to cheer.
What Gartner Predicts
The firm now anticipates global IT spending to mark a 2.4% year-over-year increase, up from its previous forecast of 1.4%. In dollar terms, IT spending will reach $3.48 trillion from the prior projection of $3.41 trillion.
If this happens, the year will mark a solid recovery in IT spending after two consecutive years of decline. Notably, in 2015 and 2016, worldwide spending declined 5.5% and 0.6%, respectively.
This is the third time when Gartner has revised its forecast for 2017 IT spending. Earlier, the firm had lowered its expectations on two occasions from the original forecast of 2.9%. Its estimate was first brought down to 2.7% in Jan 2017, followed by another drop to 1.4% in April, citing enterprise customer moving to cloud and strong U.S. dollar as the main reasons.
However, Gartner has now become optimistic, once again. The research firm noted two major catalysts which, it believes, will drive IT spending this year.
The first catalyst highlighted by Gartner is decline in the U.S. dollar against several foreign currencies. Secondly, the firm foresees an uptick in digital transformation projects in the near term which will enable organizations to spend more on IT related infrastructure, products and services.
According to John-David Lovelock, vice president and distinguished analyst at Gartner, digital business is deeply impacting business operations. In addition, it is creating innovative categories, such as the convergence of 'software plus services plus intellectual property.'
Such next-generation offerings are backed by business and technology platforms, which will later act as catalysts for fresh categories of spending. He further mentioned that some of the Industry-specific disruptive technologies include the Internet of Things (IoT) in manufacturing, blockchain in financial services (and other industries), and smart machines in retail. It should be noted that disruptive technology has been transforming business.
Computer and Technology Sector 5YR % Return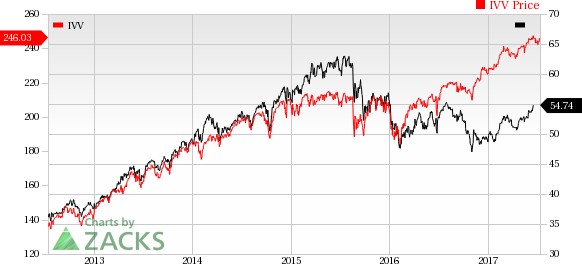 Segmental Growth Expectation
Per Gartner's latest report, every IT segment will witness growth in spending, with Enterprise Software leading the way. It may witness a 7.6% rise this year and reach $351 billion. As more organizations will undergo digital transformation, there will be greater need for automation and application functionality, which will stoke the segment's growth, cited Gartner.
This will be followed by the Devices segment (PCs, tablets, ultramobiles and mobile phones), which is anticipated to register 3.8% growth in spending and reach $654 billion, mainly driven by strong sales of mobiles. The research firm stated that increased mix of basic phones over utility phones and higher average selling prices of premium phones in mature markets will drive Mobile phone growth in 2017.
The IT Services segment is anticipated to register 3.1% growth in spending and reach $922 billion. Spending across the Data Center Systems segment may see a 0.3% increase and touch $171 billion. Communication Services segment is likely to witness 0.3% growth and reach $1.378 trillion.
Apart from revising estimates for 2017, the IT research firm also updated its forecasts for 2018, which is higher than its previous forecast. For 2018, Gartner predicts worldwide spending to reach $3.6 trillion, marking growth of 3.5% from the 2017 estimated level. The revised figure is higher than the previous projection of 2.9% growth and $3.56 trillion.
The Enterprise Software segment will continue to lead with 8.6% anticipated growth, while IT Services, Devices, Communication Services and Data Center Systems segments will witness respective increases of 4.7%, 3.6%, 1.6% and 1.2% in spending.
However, it should be noted that despite projections of growth in 2017 and 2018, the overall IT spending will remain below the 2014 level of $3.8 trillion.
Bottom Line
In 2015 and 2016, worldwide IT spending was hit hard by global concerns such as a persistent decline in oil prices, slowdown in the Chinese economy and a strong U.S. dollar against major currencies. Additionally, last year's events like the hype over Brexit, the U.S. Presidential election and the Fed rate hikes also made organizations tighten their spending on IT.
Nonetheless, the optimistic forecast provided by Gartner depicts that this year may witness a revival in overall spending, primarily led by Software, Devices and IT Services segments.
So, it will be prudent to shift your focus to Software, Devices and IT Services stocks which still hold promise. Stocks like Exa Corp. EXA, Microsoft MSFT and Barracuda Networks CUDA, are backed by buy ratings. While Exa sports a Zacks Rank #1 (Strong Buy), Microsoft and Barracuda Networks carry Zacks Rank #2 (Buy). You can see the complete list of today's Zacks #1 Rank stocks here.
More Stock News: This Is Bigger than the iPhone!
It could become the mother of all technological revolutions. Apple sold a mere 1 billion iPhones in 10 years but a new breakthrough is expected to generate more than 27 billion devices in just 3 years, creating a $1.7 trillion market.
Zacks has just released a Special Report that spotlights this fast-emerging phenomenon and 6 tickers for taking advantage of it. If you don't buy now, you may kick yourself in 2020. Click here for the 6 trades >>
Want the latest recommendations from Zacks Investment Research? Today, you can download 7 Best Stocks for the Next 30 Days.
Click to get this free report
Gartner, Inc. (IT): Free Stock Analysis Report
Barracuda Networks, Inc. (CUDA): Free Stock Analysis Report
Microsoft Corporation (MSFT): Free Stock Analysis Report
Exa Corporation (EXA): Free Stock Analysis Report
To read this article on Zacks.com click here.
Zacks Investment Research