Swiss drugmaker adding to sales force to spur Entresto growth
Second-quarter profit fell to $1.23 a share; estimate $1.19
Novartis AG said profit may fall this year as the Swiss drugmaker increases spending on the heart medicine Entresto and faces declining sales of its best-selling cancer treatment Gleevec.
Core operating income will either be about the same as 2015 or decline by a percentage in the low single digits at constant exchange rates, Novartis said Tuesday in a statement. Sales will show little change.
Novartis is depending on revenue from newer medicines like Entresto and Cosentyx for psoriasis as its blockbuster Gleevec faces generic competition in the U.S. and sales at its eye-care division Alcon slump.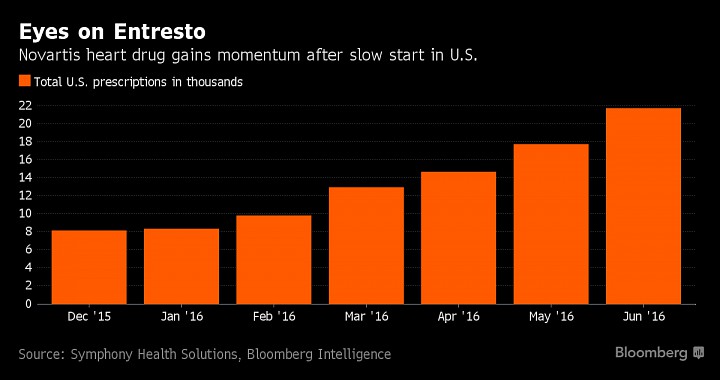 Novartis fell 0.9 percent to 79.70 Swiss francs at 11:28 a.m. in Zurich. The shares have declined about 21 percent this year.
Second-quarter earnings declined 3 percent to $1.23 a share, excluding some items, the Basel, Switzerland-based company said. Analysts estimated $1.19, according to data compiled by Bloomberg. Revenue dropped 2 percent to $12.5 billion, compared with analysts' average forecast of $12.2 billion.
Sales of Entresto were $32 million. Analysts had cut their...
More