Moments before today's first of the week auction of $27 billion in 3 Year paper concluded, the yield on the 30 Year was sliding, breaching the lows of 2014. Which obviously led most to suspect that demand for the 3 Year would be blistery. And sure enough, it was, with the yield on the paper pricing a whopping 0.9 bps through the 1.003% When Issued at 0.994%, and printing under 1% once again, after surpassing 1% in September which was also the highest yield since May 2011. The internals were very strong as well, with the Bid to Cover of 3.423 jumping from September's 3.171, the highest since February's 3.450. Indirects took down 35.5% of the auction despite China's holiday, which left 47% for dealers and 17.4% for Directs, just modestly below the 18.8% TTM average.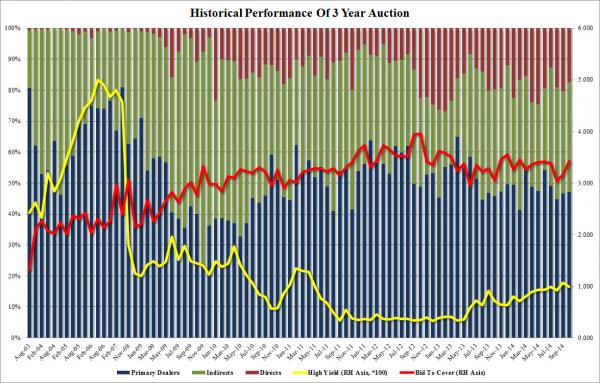 The strong auction pressured yields lower across the curve and the 30Y Yield broke to new 2014 lows - the lowest since May 2013's Taper Tantrum began.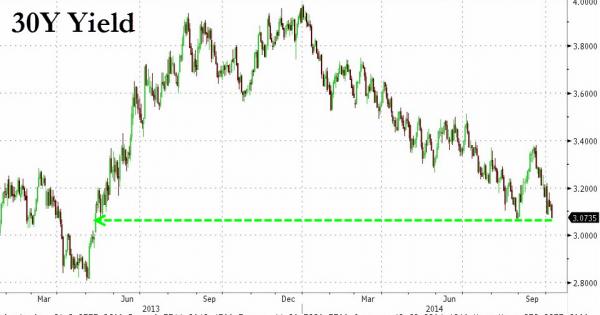 While many suggest Treasuries are mispriced, it appears they are increasingly trracking the realization of weaker-than-expected US macro data (despite the constant narrative of 'things are getting better' in America)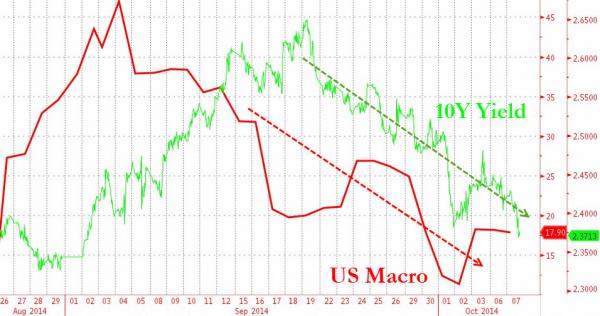 It appears the bond market was pricing in the weakness that The IMF is now surprised by.